DIY phone cases are our best remedy to the boring, generic or expensive cases sold in the market.
If we were to buy a phone case, we would often choose two between good appearance, functionality, and affordability. It is so rare to find a case that would satisfy all three categories.
These DIY phone cases are perfect for customizing the look of your phone while also being practical. Since you will be making these cases yourself, they will be unique and personalized.
For this article, you will need clear cases and common materials from your homes.
Clear cases are the simplest way to customize your phones. You will just need something to sandwich between the case and the phone
1. DIY Phone Cases with Printouts
Image Source: brit.co
We're not OC, but sometimes we really want our phone cases and outfit to complement each other. Operative word: sometimes.
People often associate our personality with our phone cases. For example, using a Pikachu or Super Mario Bros. case while closing a deal with a possible client can work both ways.
Some people might think that you're unprofessional (not me), while others will think you're just a fun person. So, it's nice to be safe.
The best solution? Clear cases.
Search the Internet for images that might suit your outfit or the occasion and print them on regular paper. Using a thicker paper will make your printouts easier to store.
You can also find templates for the sizes of the images you need to print. Some free printables which will not require further cropping and editing are also available on some blogs.
Print an assortment of images, patterns, motivational for your clear case and replace them anytime you want or when necessary.
Tip: You could also decoupage printouts on the underside of the clear case to make gifts for your friends and family.
2. DIY Phone Cases with Washi Tape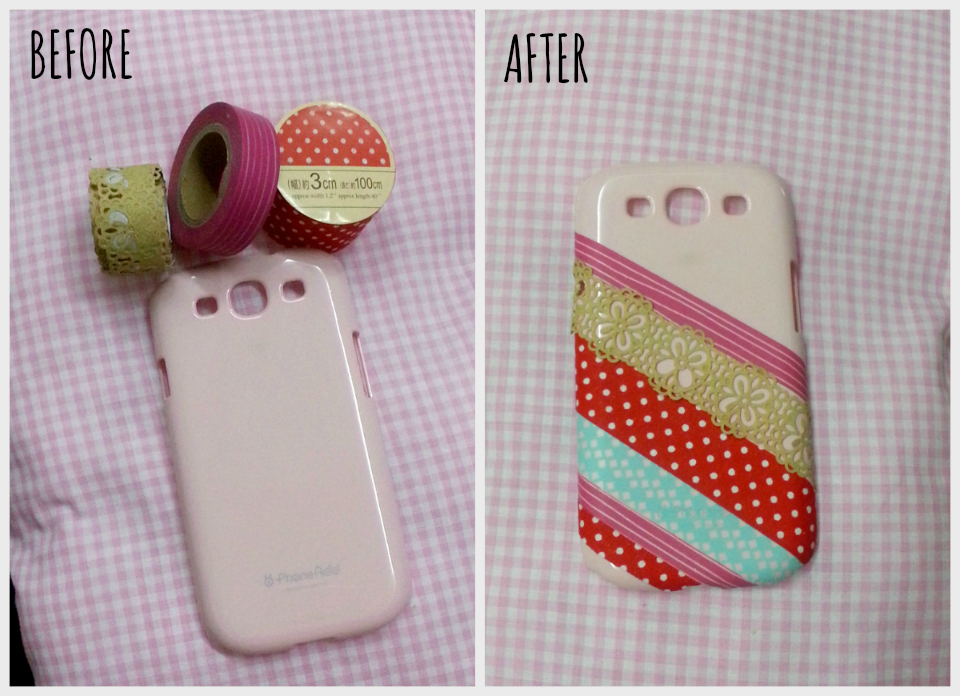 Image source: http://ajugglingmom.com/create-washi-tape-hand-phone-cover/
Is there anything that washi tape cannot beautify?
I mean, it can be used to cover anything to make them look better.
For this project, you can use clear case or any case of solid color. You will also need one or two of those fancy patterned washi tape.
After getting the supplies, you are just going to cut and stick, or stick and cut the washi tapes on the phone no matter how you want.
You can tape them horizontally, vertically, diagonally, in a herringbone pattern, etc.
3. DIY Phone Case With Pressed Flowers
blog.freepeople.com
If you have flowering plants living in the garden or are willing to buy some from the stores, this can be a good case for you.
Book-pressed flowers is an old tradition of women everywhere. This is a good way to incorporate traditions with modern day things.
The first thing you need to do is to get some stalks of small flowers or petals. (Of course, you can't fit a whole rose or chrysanthemum on a phone case.)
After this, press them with the book for just one day. Place the flowers on the case after they are already flat.
When the flowers are already turning brown, you can replace them for a fresher case. Lavenders can last long even when dried.