Kaley Cuoco Was on Lip Sync Battle, But She Was Betrayed By Her Own CoStar…
Guess who… 
Kaley Cuoco is a fun lady.
She likes to have a good time and spread good vibes. That's why it made perfect sense to see her on last season's Lip Sync Battle. Of course, her performances were outrageous and entertaining, but it was her opponent's performance that stole The Big Bang Theory limelight. 
If you aren't familiar with Lip Sync Battle, it's a reality show on Spike hosted by LL Cool J and Chrissy Teigen. Celebrities come on each week and lip sync to greatest hits. This isn't just your typical lip sync, though; contestants go all out dressing up and choreographing full routines.
It's fun and has produced some classic moments through its three seasons.
Kaley Does Ludacris
photo by billboard.com
In the first round, Kaley's lip synced to Ludacris's Move B*tch. This was an interesting song choice for the pint-sized blonde. While it may not have been the best, she certainly fully committed. Kaley had the stank face and tried her hardest. Plus, her body looked killer. All that tennis and horseback riding give her the best physique.
Inevitably, Kaley didn't compare to her opponent's song choice. Josh Gad– the voice of Olaf– performed Whitney Houston's How Will I Know. It's just too classic of a song for him not to win, but Kaley tried her hardest.
Round 2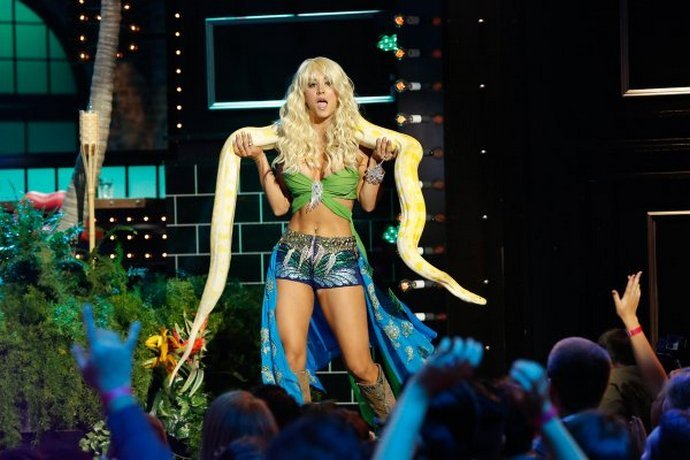 photo by aceshowbiz.com
In round two the clear winner wasn't as obvious. Kaley came out with a Big Bang (Get it?) She performed Britney Spear's iconic I'm A Slave For You complete with the terrifying snake. One thing we want to know; how do those dancers not freak out with that thing moving around.
Josh Gad ended up winning the night, though. He had a little help from Kaley's costar.
Johnny Galecki In The House
photo by fashionandstyle.com
Johnny Galecki made a guest appearance in Josh Gad's Donald Trump–themed I Touch Myself performance. The joke was that Gad was depicting Trump's self-views; everyone on stage was dressed as Trump.
This included Johnny Galecki, making a final appearance in a blue Trump suit, wearing a sombrero. He walked right up to Gad and the pair started making out.
You could see Kaley's reaction on the side of the stage. She was in shock that her costar and the former boyfriend was there to steal the spotlight. Obviously, it was all in good fun, though, and Kaley was crying from laughing so hard. We would watch an entire Lip Sync Battle episode surrounding the TBBT cast.
Did you watch Kaley Cuoco on lip sync battle?
Sponsored Links
Sponsored Links
Sponsored Links