Instead of buying an assortment of necklaces to complement your day-to-day or seasonal outfits, why don't you just make DIY necklace pendants yourself?
These will be a more practical solution as you can make a simple chain or cord necklace that will complement your #OOTD by simply replacing the pendant every day.
It's not like you never thought about this, right? But you decided not to because you thought making DIY necklace bracelets is very time-consuming.
Well, in this article, we have listed some of the easiest DIY necklace pendants which will not make you break the bank or a sweat.
Macrame-Wrapped DIY Necklace Pendants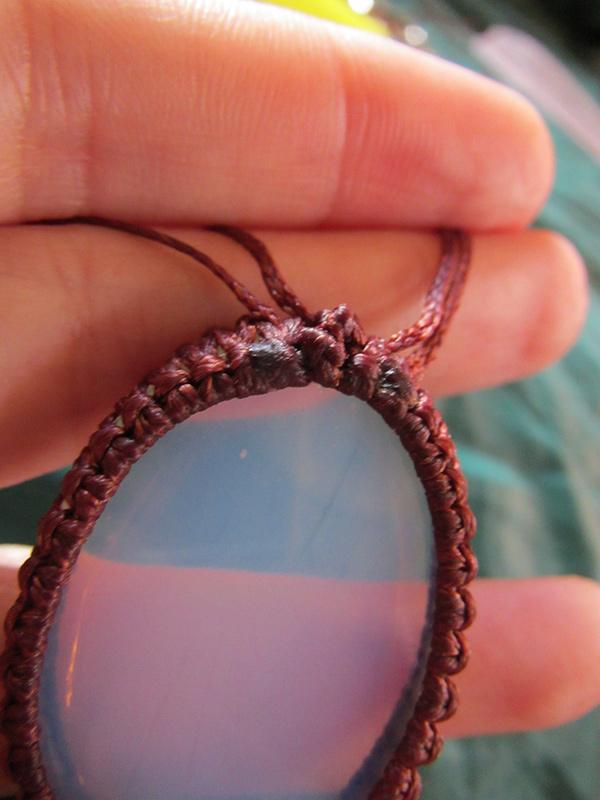 http://www.livemaster.ru/topic/120556-opletenie-kaboshona-v-tehnike-makrame
If you want a fancy looking pendant and want sea glass or any round decorative stones, but don't have the patience (or courage) to try wire wrapping them, this is a perfect alternative.
Using your usual macrame knots, wrap the circumference of the stone tightly. Make sure that the width of your knots can hold the stone in place. Learn how to make this here. (just use Google Translate.)
If you have irregularly shaped stones, you may opt to use the macrame method to make a net that will contain your stone inside. This will also be perfect for spherical beads or marbles.
Easy Wire-Wrapped DIY Necklace Pendants
http://www.aliceandlois.com/diy-wire-wrapped-stone-necklace/
READ ON! This is the easiest wire-wrapped pendant ever.
It's actually, literally, exactly just wrapping the wire with your bare hands around a piece of stone.
Just get a thin copper wire, an elongated piece of rough stone, and a set of pliers. Just wrap the wire many times tightly on the stone, make a tight knot using the pliers and make a loop where the chain will be inserted.
Easy-peasy, right? And it's actually as easy as it sounds. No tricks or false advertisement (LOL).
Read a step-by-step tutorial here.
Salt Dough DIY Necklace Pendant
http://ladywiththeredrocker.com/wp-content/uploads/2012/01/salt-dough-pendants.jpg
If you can't find any polymer clay in stores near you, this is your best option. Actually, it's also cheaper.
Learn how to make salt dough here.
Fingerprint pendants can be done with this salt dough. (Not FBI-recommended. Haha.)
Just flatten a piece of salt dough, press your thumb, and bake it in the oven for 25 minutes at 350 degrees. Cut the unnecessary parts before putting it in the oven.
Tip: You can use two thumbprints to form a heart-shaped pendant. Perfect for Valentines or Anniversary Gift.
You can also imprint other things such as leaves, buttons, and stamps. After cooling, paint them to achieve your desired look.
Wine Cork DIY Necklace Pendant
http://www2.fiskars.com/Ideas-and-How-Tos/Crafting-and-Sewing/Upcycling/Upcycled-Wine-Cork-Pendants
You can make a bunch of these and it will complement your outfit for the day.
Just slice a cork into thin pieces to make thin circles. You may then carve various shapes on the cork to make different designs. Paint them as you like.
Alternatively, you could glue decorative buttons on each side of the cork. Paint them with bronze to give them an antique look.
You can also cover the cork with printed fabric or paper. The possibilities are endless.
Screw a jewelry-making loop you can buy in bead or craft stores to the cork and poof! Pendants for all occasions and outfits.