The Duck Dynasty wife is polished, country, and a little edgy. The women of Duck Dynasty contrast their men's scraggly beards and constant camouflage. They've got their own style, and here's how you can make it yours!
Shop At Duck and Dressing
photo by tasteofcountry.com
Duck and Dressing is a physical store in West Monroe, with a large online store opened by Korie Robertson and her daughter Rebecca Lo Robertson. The two have a passion for fashion. Rebecca Lo studied fashion design at Louisiana State University and went on to live and work in Los Angeles. Due to homesickness, she decided to come home and collaborate with her mom on a new project!  
Be Country, With an Edge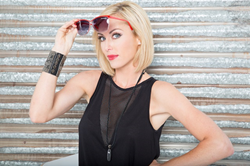 photo by prweb.com
When speaking of Rebecca's fashion taste, Korie told TasteofTea.com, "She tends to like a lot of neutrals and things with a little edge to 'em, I do as well, so we try to carry a lot of things that we love. I would say it's kind of like an extended version of our closets." The other Duck Dynasty wives also share these sentiments.  
Rock Boots
photo by whimzey.com
These hometown women know how to rock a leather boot! Use your country roots and dress up a cute cowboy or ankle boot with a modern cut jacket and skinny jeans. They can be for a casual get-up or even a night on the town! Below Missy Robertson rocks cowboy boots with a formal dress for a more dressed up look.
Accessorize with Camouflage
photo by usmagazine.com
photo by dooneyandbourke.com
The Duck Dynasty wives take a page out of their husband's books by rocking camouflage often. However, they put their feminine spin on the favorite print. Korie Missy and Jessica Robertson have collaborated with Dooney and Bourke to create their A&E series inspired handbag collection. The handbags are a bit pricey; they go for upwards of $300. But they sure are cute!
Have a Statement Leather Jacket
photo by heavy.com
These women live in Louisiana, where the heat is relentless nearly all year long. There's no better way to be prepared for a heatwave than with removable layers. Look no further than the leather jacket!  Duck Dynasty Wives love to accessorize with a classic leather number. It keeps them cool, and looking cool too! We love the edgy country vibe these rock star women give off!
photo by tasteoftea.com
Finish it off with a Full Face
Lastly, these women are always looking polished with a full face of makeup and styled hair. Though they probably have the help of a glam squad, we can't help but admire their dedication to beauty! Their husbands may be covered in mud, but these women always put their best face forward!