Willie Robertson and Donald Trump have been a strong pair since the beginning of Trump's campaign. Willie introduced The President-elect at the Republican National Convention, and has been a huge supporter of him since 2015. However, they actually met by happenstance.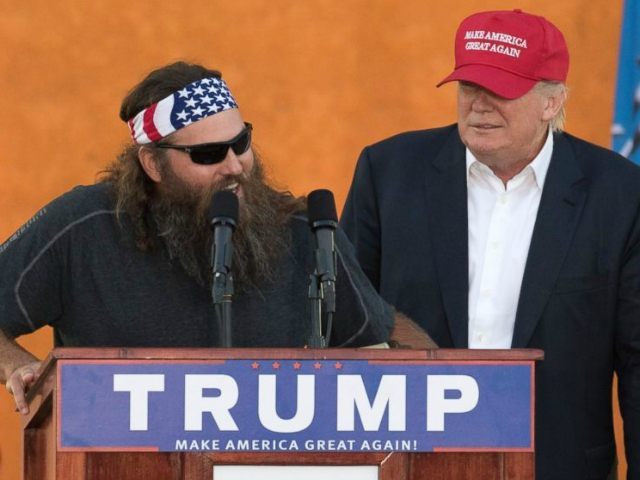 photo by breitbart.com
Just Happened To Be In The Neighborhood
Willie Robertson spoke with Fox Business news about his initial meeting with Donald Trump in an interview last week. Willie recalls how he happened to be in Oklahoma City at the same time as Trump. Robertson was in town for one of his son's activities, but was intrigued by the rallies he had heard about in the media.
Willie and Donald Jr. are old friends. They have even hunted together. Willie decided to text Trump's son and see if the two could meet.
He Didn't Mean to Go On Stage
photo by thechristianpost.com
Willie met Trump backstage at the rally. He recalls being impressed and liking what the man had to say. However, he didn't want to be on stage or in the spotlight. He figured when Trump didn't initially mention Willie within the first few minutes of the rally he was safe.
But thirty minutes in, Trump asked, "Where's Willie?" and the rest is history. Robertson became a huge endorser for Trump within the hunting community.
The "Regular Guy" Appeal
photo by westernjournalism.com
Willie stated that he liked Trump, "Because he is a regular guy."
Willie recalled, "He was a real guy. When you talk to him just privately, unlike a lot of politicians that are kind of stiff and rigid, wondering about everything they say, or should they talk to this person or should they not. I didn't get that at all from him."
Willie also points out that both he and Donald Trump are businessmen. He was quick to add that they come from two different circles. Trump is a New York City guy, while Willie was raised in rural Louisiana. However, their differences didn't matter to the Duck Commander CEO.
He said, "There was just something about his honesty and what he said that really attracted me to him."
Rural America is Heard
Willie also rejoiced that rural America came out and voted. "I was so happy that those voices are heard," the West Monroe native said. Willie admits that as he saw all of the red counties on the map he assumed many of them were Duck Dynasty viewers and fans.
Looking To The Future
photo by pinterest.com
Willie hopes Trump can deliver on his promises and get the job done. He expressed sympathy for those protesting. He remembered that his own father, Phil Robertson, didn't watch the news for six months after Obama was elected.
He understands the disappointment, but also noted, "We all respect the system so there's no changing it. He's going to be the president. You would think you would try to find out what you could to help the country — not tearing up stuff."