Phil Robertson stars in a new Documentary, Torchbearer.  The film was screened at the famous Cannes film festival.  In the wake of the 2016 Presidential election results, the film seems more relevant than ever.  Robertson and filmmakers examine the role of God in modern and historical societies.
A Controversial Documentary
photo by dailymail.uk.co
Torchbearer was released on October 7th in some theaters across the country. In the future, The film will be released on DVD, and many other sources including Dish, Amazon, Comcast, and iTunes.  The film shows the Duck Dynasty cast member examining God's role in Western societies.  Torchbearer is directed by Steve Bannon.  It is produced by Citizens United.  Citizens United recently made a film negatively exploring the past of Hilary Clinton.
Strong Evangelism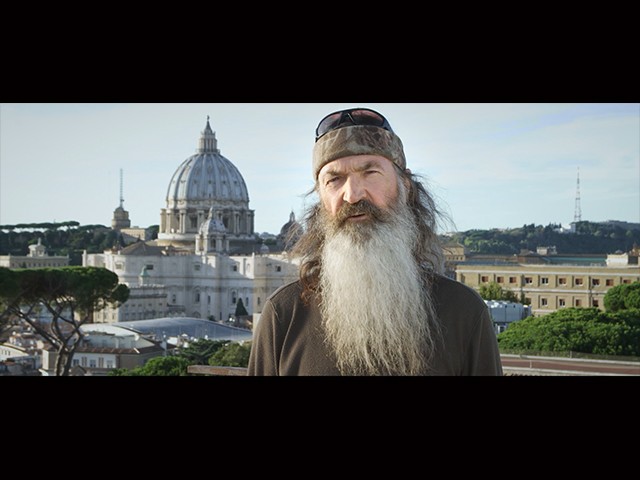 photo by breitbart.com
The film has a strong evangelical tone.  Phil Robertson stresses the need for God in a functioning society.  He preaches his belief in a need for Jesus Christ for salvation.  Phil says in the film, "When you take out God as the anchor of your civilization you open the door to tyranny…instead of human rights, you have the will to power of the ruler who makes himself the sole determiner of what is true and just. Might makes right."
Graphic and Upsetting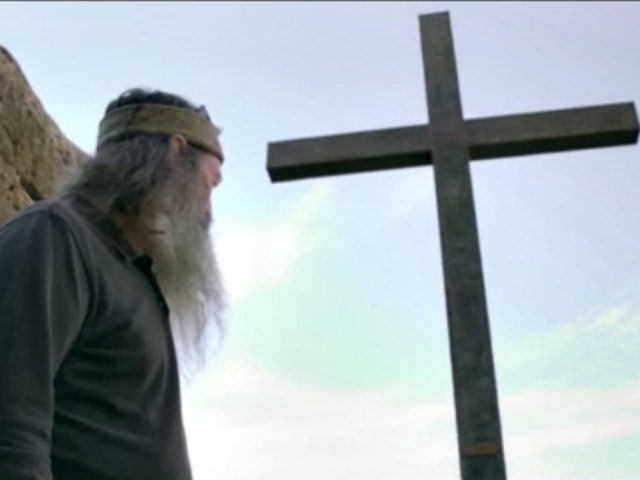 photo by breitbart.com
Many have found the film to be graphic and upsetting.  Phil talks about topics such as abortion, ISIS, Boko Haram, and Nazi Genocide.  He blames these atrocities and more on a Godless society.  Robertson states, "when you remove the God of the Bible from your conscience, and you let men, mere men, determine what's right and what's wrong."They all wanted world domination. And there's a lot of murder involved."
Attacking His Fellow Reality Stars
photo by dailymail.com
Many viewers are quick to comment that Phil Robertson has gained his success by being a part of the problems he criticizes.  In the film, Robertson's voiced, "You are your own God," over photos and footage of Kim Kardashian West and Kanye West as they are photographed at a public event.  Previously the Kardashians and Robertsons have been compared in the media to two wealthy Reality TV families.  Many noted that Kyle Jenner and Sadie Robertson are both the same age.  Moreover, The two teens each have their individual brands and businesses.  However, they could not be more different.
Election News- and Hope?
photo by dailymail.com
Phil Robertson had previously supported primary candidate Ted Cruz, before switching his endorsement to Donald Trump during the general election.  With news of Donald Trump becoming President-elect, the ending of the film seems more relevant than ever.  Torchbearer ends with a baptism scene.  The Documentary states that returning to a God-centered nation and roots of love and liberty are the only hope for the country.
We will see how well the film does, and if Phil's worldview and predictions for our future are correct.