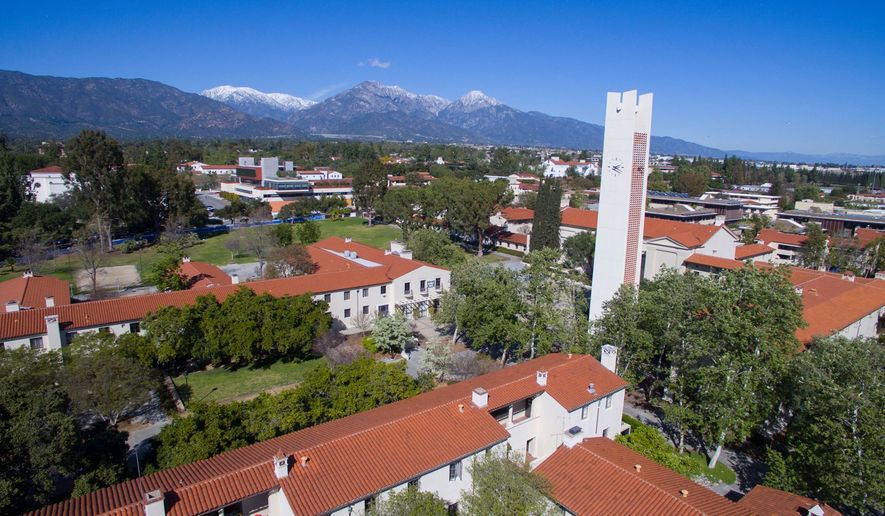 Pomona College campus. Source Pomona College Facebook Page
A group of 70 students were sponsored by Pomona College in Claremont California to attend an Anti-Trump rally over the weekend, reports Claremont Independent.
Claremont Independent is an independent publication of Claremont Colleges.
Invitation to Participate
The students were called to participate in the "United Against Hate" rally in Los Angeles via an announcement of Draper Center's Facebook page. The post read, "We are sponsoring a group of 70 students to go to the anti-hate rally in LA tomorrow morning! Please share with your communities — as of now, this is open for Pomona students only."
Applicants were directed to a sign-up form that reads, "The Draper Center is responding to student responses/needs to engage with our wider SoCal community to unite against hatred. One way this week we will be supporting students is providing Metrolink passes and a group to go to the United Against Hate March starting at MacArthur Park in LA on the morning of Saturday November 12th."
The form also included a number to call in case of arrest or other emergencies.
Organizers called the event as a chance to "unite to resist this vile and sexist demagogue. Let's unite Los Angeles from day one to say, "Down with Trump!"
Some "United Against Hate" rallies concern discrimination against women, race, the LGBTQ community, and religion, but the Claremont Independent claims Pomona students were explicitly and inappropriately Anti-Trump.
Violation of Section 501(c)(3) of the Internal Revenue Code
The Draper Center is staffed and funded by Pomona College, which is an exempt educational institution under the section 501(c)(3) of the Internal Revenue Code.
Pomona College is 98% funded by student fees.
Pomona, therefore, is prohibited by the Tax code from "directly or indirectly participating in, or intervening in, any political campaign on behalf of (or in opposition to) any candidate for public office."
Participation in an Anti-Trump rally, is indeed, a clear violation of the said portion of the law. This may cause the school to be investigated by the Internal Revenue Service.
In an opinion article published by Claremont Independent, Matthew Reade and Ross Steinberg said that the school may not be able to get away with this form of political engagement.
"United Against Hate" Rally in LA. Source: KPCC
The article further explained that "Although Donald Trump's official candidacy for the 2016 general election ended on November 8th, he began accepting donations for his 2020 primary campaign on the 9th, the same day Pomona College's Draper Center began organizing and reimbursing transportation to anti-Trump rallies. According to federal guidelines, this makes Mr. Trump a political candidate."
The two also went on to reference an email blast sent by the school administration that seems to project the nonpartisan political leanings of the school.
The email contains a link to the "United Against Hate" website, where it says, "Donald Trump wants to take our country back to a time when fear excused violence, when greed fueled discrimination, and when the state wrote prejudice against marginalized communities into law."