Free Craft Supplies at Home # 1: Tin Cans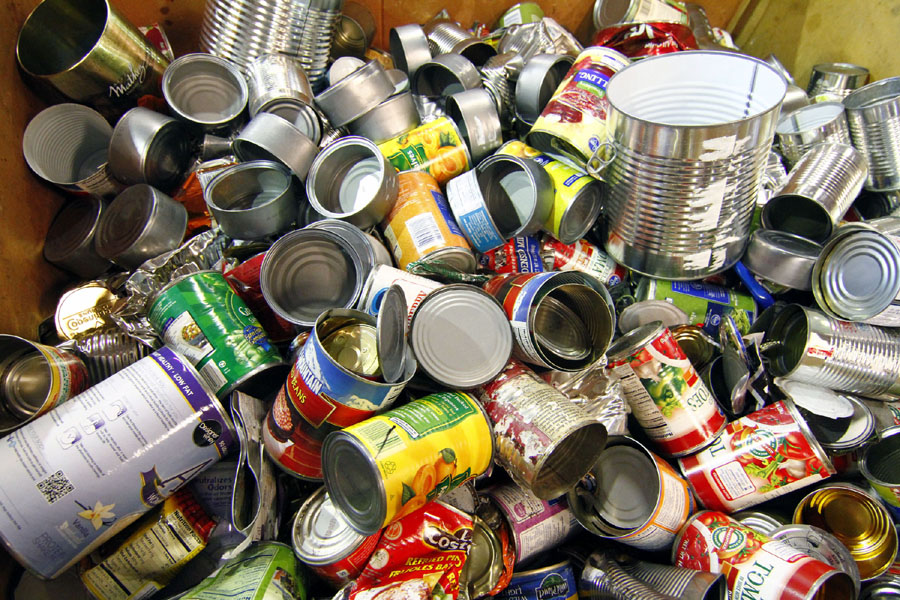 http://www.recyclewichita.org/
Those little sardine or sausage cans filling your garbage bags have a lot of crafting use. Not only can they be used as storage devices to declutter your home, they can also be used as decor.
Tin cans are good free craft supplies because they're durable and lightweight at the same time. 
Tin cans can be used as organizers for your school or office desks.
These free craft supplies can also be made into a utensils caddy. Simply attach six or for cans on a piece of plank or wooden panel. Paint with nontoxic paint or wrap with your go-to waterproof wrapper.
They can also be made as indoor planters for indoor plants and succulent. Glue printed fabric or decoupage maps or pictures on them and they'll add beauty to your living room.
Since I have mentioned that DIY luminaries can be made from the first two free craft supplies, let's continue the streak!
This one's simple. Using nails, poke holes on the sides of tin cans. You can also arrange the holes so they'll be shaped like constellations or skylines. The light will pass through these holes and will give your room a mystical vibe.
Free Craft Supplies at Home # 2: Busted Light Bulbs
http://www.greenphillyblog.com/recycle/where-recycle-light-bulbs/
I'm still wondering why my mom didn't throw these away. Maybe she's a low-key crafter and knows that these are free craft supplies.
You're probably wondering, "what am I gonna do with a busted bulb?" Well, my friend. You can do many things. But first, learn how to remove the bulb's bottom part. 
Once removed, you can do many things with the bulb. You can brush glue on the inside (or outside), fill them with glitters and you now have a Christmas tree adornment. You can also paint it like Santa Claus or a snowman.
If you want a fancier decor out of these free craft supply, you can just use them as a vase for petite flowers. Just bend a thick wire using pliers for the stand.
Free Craft Supplies at Home # 3: Wood Panels & Crates
http://vintageindustrialretro.com/vintage-wooden-crates/
Wooden panels are in demand for people who DIY and craft things. These things are not always free, though. However, if you know someone who has crates they don't use anymore, you can ask them for some. The crates can also be used for various DIY craft projects.
The crates can also be used for various DIY craft projects. Just disassemble them if you really want or need the panels.
If you stumble into some free wooden panels or crates, you have a lot of DIY-ing to do.
Wood panels can be used as wine and wine glass caddy, as well as a beer caddy.
They can also be used to make a dresser or closet. Some people have also used it to make a platform for their beds. Speaking of beds, these free craft supplies can be made into DIY headboards, also.
(We'll be publishing an article about crafting with wood panels soon!)
Crafters everywhere, this has been The Craft Geek with the Top 5 Free Craft Supplies found at your homes. Do you have something to add to the list? Share it with us in the comments.