If you're looking for DIY projects for your dorm room, you might be in school for a few weeks already right now, and still adjusting to all that's happening. You're also probably wondering how to make the most of your limited space, and how to minimize clutter.
Don't worry, you've come to the right place. We've listed some of the most ingenious organizing and space-saving DIY projects for dorm room. Whether you're in college or high school, these will come handy. (You can also do these ideas for apartments or rooms with limited floor space.)
Organizing
DIY Projects for Dorm Room # 1: Toilet Paper Roll Organizer
http://www.usefuldiy.com/diy-toilet-paper-roll-organizer/
Yeah, I know. You should have saved those cardboard cylinders.
For this project, you're going to need cutters and glue. If you want to decorate it, you can use gift wrappers, paint or washi tapes.
This project is very easy and straightforward. You could either place them in a box, on a stand or just stack them with one another. Simply cut the toilet paper roll (or don't) to the desired size, glue with one another or to a vase and voila! You now have something to put your pen, pencils, makeup brushes and other stuff.
Tip: You could also use Pringles or Pik Nik cylinders, tin cans or PVC pipes.
DIY Projects for Dorm Room # 2: Charging Station
http://www.handimania.com/diy/shoe-box-charging-station.html
This one is for everyone who doesn't want to see all those tangled wires. All you need to do is cut holes in a box as needed, put the power strip inside along with those chargers. You can either label the holes where the lighting or micro-USB comes out, or the cables themselves.
Alternatively, you can also cut an empty Johnson & Johnson's body lotion bottle as pictured below for a portable charging station. This will be handy for outlets situated high on the wall.
http://www.makeit-loveit.com/2011/12/holder-for-charging-cell-phone-made-from-lotion-bottle.html
Additional Tip: You can attach paper clips on the edge of the table to keep your charger wires from getting tangled with one another. (Provided the length of your charger is at least equal to your table's height.)
DIY Projects for Dorm Room # 3: Hanging Buckets Organizer
http://www.glamour.com/story/beauty-hack-how-to-make-a-cute?crlt.pid=camp.N5owfvOFx423&mbid=social_pinterest
This is probably the easiest one on the list. Just buy small plastic or tin buckets from your local dollar or thrift store, tie them together in a vertical arrangement, and it's finished!
Just look for a wall hook where you can hang your bucket organizer and you can start filling
it with your stuff.  You can use it for your pens, accessories, and other supplies.
Space-saving Hacks
DIY Projects for Dorm Room # 4: Pillowcase Laundry Basket
http://www.prettyprudent.com/2011/10/baby-kid/how-to-make-a-hamper-from-a-pillowcase-2/
Uhhh. Now I'm torn which is the easiest project on this list. For this one, you just have to attach the opening of a pillow to a medium-sized embroidery ring. That's it!
You now have something to practice your shooting skills, especially if you're in a rush. (You know what I mean.)
DIY Projects for Dorm Room # 5: Floating Night Stand
http://www.seventeen.com/life/school/how-to/a33466/dorm-diy-decor-storage-hacks/
One disadvantage of having the top bunk is not having a nightstand, but with this hack, you can cross this one off.
Just screw or stick a magazine file to the corner of a wall, paint it or use patterned stickers to decorate it. Glue cardboard on the edge of the magazine file to minimize the risk of your things falling. Now you have a nightstand and added storage space. This will be very helpful to someone who needs his/her medication nearby every time.
DIY Projects for Dorm Room # 6: iPad Wall Mount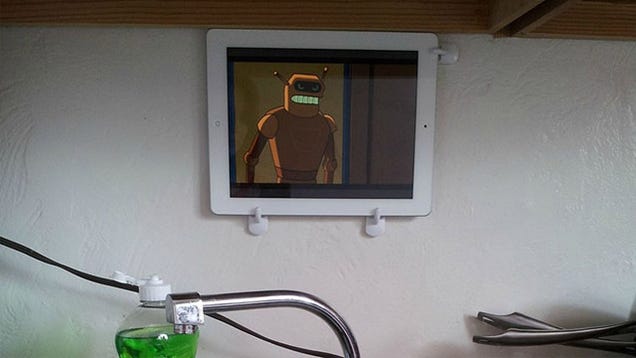 http://lifehacker.com/create-tablet-stations-everywhere-in-your-home-with-com-509515987
Another contender for the easiest DIY project on this list. Just attach command hooks on the wall where you need your iPad to stay and it's finished. Make sure to get the ones with heavy duty tapes to avoid cracked screen due to your iPad falling on the floor.
There you have it 6 of the most ingenious DIY projects for dorm room! Do you have your own dorm room or space saving hacks? Share it with us in the comments.