Phil Robertson's past has caused quite the stir in the media and fan households across America. But only die-hard fans know this fun fact about the original Duck Commander.
Photo by duckcommander.com
Phil Robertson Early Life
Phil Robertson had 7 siblings when he grew up in a rural part of town outside of Shreveport Louisiana.  The family was very poor, and therefore Duck Hunting was a necessary way for the family to make money.  He learned everything there is to know about hunting and found it to be a very enjoyable process.
The Athlete in the Family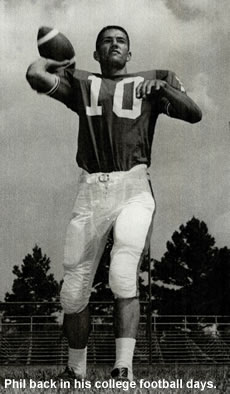 Photo by homecomingmagazine.com
The young man put his all into sports.  He made all-state in multiple sports including football, baseball, and track.  In high-school, he was quite successful athletically and used that gift to have college scouts look at him.  Phil Robertson's past athletic success earned him a scholarship to Louisiana Tech University.  The scholarship was for his football talents.
Playing with the Greats
Photo by lousianadestinations.com
Terry Bradshaw is a former Pittsburgh Steeler.  Bradshaw is very well known for leading the Steelers to more than one Super Bowl championship.  Many Duck Dynasty fans have no idea that Phil Robertson's past included playing the first-string quarterback at Louisiana Tech AHEAD of Terry Bradshaw.  Talk about a crazy life.  Phil's record included 2,237 yards, 12 TDs, and 34 interceptions.  He, however, decided to stay away from football his senior year and focused on his true passions; hunting and being outdoors.
An Early Life in Academia
Robertson served as a teacher for many years.  His undergraduate degree was in Physical Education.  He received a masters degree in Education.  All of his teaching was done in local Louisiana schools.  As time went on Phil realized his true passions for hunting and outdoor sports would never go away.  Therefore he quit teaching and brainstormed ways to make money out of hunting.
Not a Fan of Duck Call Contests
Photo by wikipedia.com
Duck call competitions are an interesting part of the culture in Louisiana.  Contestants compete in having perfectly tuned duck calls.  Phil wasn't all that interested in winning contests; he wanted to kill ducks.  Due to this goal, Robertson has stated that no duck would ever win at a duck call contest.  He wanted his calls to sound authentic and decided to make his own.  The rest is history!  Duck Commander was born, and from it, the Duck Dynasty we know and love.
Phil Robertson Today
Photo by christianpost.com
The Duck Commander website states, "It isn't often a person can live a dream, but Phil Robertson, aka The Duck Commander, has proven it is possible to achieve your goals – with vision, hard work, helping hands, and an unshakable faith in the Almighty. If you ever wind up sitting face-to-face with Phil Robertson, you will see that his enthusiasm and passion for duck hunting and the Lord is no act – it truly makes him the man this nation has come to know, respect and love."  Though Robertson has had many scandals and made controversial remarks, his true fans remain loyal.  Only time will tell what is next for the original Duck Commander.