5 Surprising Facts About THIS Unique Duck Dynasty Character
Mountain Man is perhaps the strangest character on Duck Dynasty. While all of the Robertsons have their unconventional quirks, he's the one man on the show we would never expect to skyrocket to fame. Here are 5 surprising facts you never knew about everyone's favorite radio host.
Mountain Man's Real Name
Mountain Man's real name is Tim Guraedy. He says his nickname came from an old friend. "I was brought up in Tennessee and moved to Louisiana." The friend was noting that Tennessee has many more hills and mountains than the West Monroe area.
He Has A Son
During a testimony video Mountain man gave, he revealed he has a 26-year-old son. He was never married to the boy's mother.
He Was Quite The Lady's Man
Before appearing on the show, Mountain Man was not a practicing Christian. Though he had been baptized at 9, he admits he took a wrong turn and wasn't following the right path. He said, "Seems like sometimes you take the wrong roads, you do things that your really know you're not supposed to do. I've only been married seven and a half years of my life. I have one boy Jonathon, he's 21, so. I've dated quite a few ladies, not a whole lot. Always looking for the right relationship."
Jase Robertson Brought Him To The Lord
When Tim first started filming with the Robertsons, he had no idea what sort of a change they would bring to his life. He said, "I really didn't know much about the Robertsons to be honest with you. But I knew they all went to church. That's about all I knew." 
Between takes on Duck Dynasty, Jase Robertson started telling Mountain Man all about the Gospel. Even when Mountain Man didn't want to hear it, he would tell him he needed to follow God. One day Tim remembers feeling the Holy Spirit come over him. He called Jase immediately and told him he now understood what he was talking about.
He Wasn't Planning To Be On The Show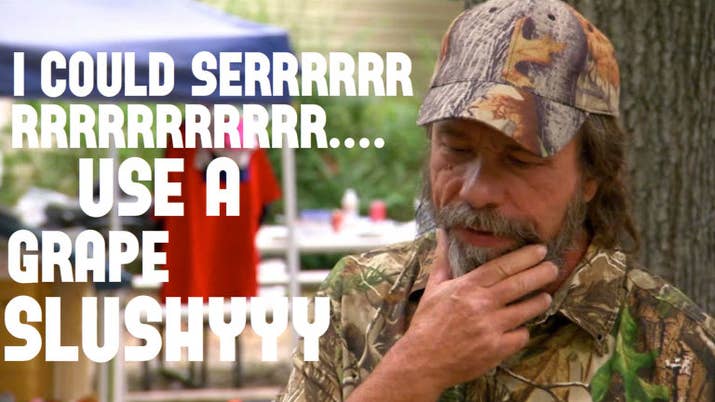 Tim didn't seek out fame in the slightest. He stumbled onto the Duck Dynasty set one day without even realizing it. He had been hired to fix Willie Robertson's air conditioner. While at the house Willie asked him to jump in a take. The rest is history. 
Did you know these fun facts about Duck Dynasty's Mountain Man?