Bert Did This ONE Thing To Up His Dating Profile Activity
Bert's Online Dating Profile
it looks like our favorite recurring TBBT character, Bert, has a new girlfriend. The chronically awkward and socially unbearable geologist finally scored a date. Plus, she's smoking hot and very young. So how did he up his dating profile action? Bert did one thing that really grabbed Rebecca's attention.
Bert's New Girlfriend
In The Separation Agitation we met Bert's new girlfriend, Rebecca. She's played by April Bowlby, a petite and gorgeous blonde bombshell, much like Kaley Cuoco. The young girl states that she moved to LA to be an actress. After that didn't work out she got into personal training. So why did a pretty young thing like Rebecca reach out to Bert on G-harmony (That's E-harmony, for geologists)?
Updated Profile
Bert told the TBBT gang that he did one thing to really up his online dating game. "I revamped my profile…" Of course Sheldon had to ask, "What'd you do, delete your photo?"
Of course that wasn't what Bert did.
He retorted, "I wasn't getting any responses and then I added, 'Recent 625,000 dollar McCartha grant winner' and five minutes later I met my soulmate." 
So it turns out Bert revealed his recent earnings, and Rebecca swooped in.
Sheldon was on to something when he pointed out that she was "much younger and more attractive than him."
Not only that, she is certainly…
Out For The Money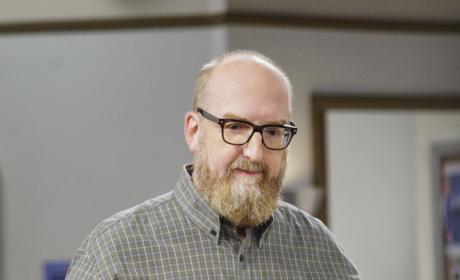 Of course, some people might not mind Rebecca being attracted to their money. People are often attracted to successful people and power.
However, in Rebecca's case it seemed she was taking advantage of Bert. Bert didn't seem to mind. When Amy asked him if he was worried Rebecca was only attracted to his money he replied, "She better be, on our first date I bought her an 80 inch flat screen."
Moral of the story: If you really want some traction on your online dating profile- add your salary.
However, if you want a long lasting and deep relationship, definitely skip that step.
Did you enjoy meeting Bert's new girlfriend on The Separation Agitation?
Sponsored Links