If you read the first article in this series, you might be shocked to learn there's more.
Unfortunately, many violent attacks against Trump supporters have not been televised. "Why is that," you ask?
We can only presume.
Have you heard about these attacks against President-elect Trump supporters?
High School Protesters Beat 15-Year-Old
The high school protest in Rockville, where the students are holding "Love Trump Hates" sign seemed to forget their message when four students beat a 15-year old boy wearing a Trump hat. Source: WTOP
On November 16, 2016, hundreds of students from Richard Montgomery High School marched to protest the win of President-elect Trump. They carried signs that said "Love Trumps Hate" and chanted the same.
However, when they saw a 15-year-old boy wearing a "Make America Great Again" cap, these students seemed to forget the meaning of their placards.
A group of at least four students surrounded the boy, and punched him repeatedly. Not satisfied by this, one of them threw him to the ground, where they all kicked him repeatedly in the ribs.
Maj. Michael English from the Rockville police said, "The victim was not the aggressor."
According to WTOP, a witness said, "They jumped him and beat him up pretty bad."
Police said they have identified a 17-year-old suspect and filed charges of second-degree assault against him.
Luckily, the victim did not suffer any serious or permanent injury, however, after the attack, he was seen clutching the back of his head in pain. Medics had to help him stand. He was rushed to a nearby hospital due with non-life threatening injuries.
They Say Trump Is a Misogynist, So They Did This To a Woman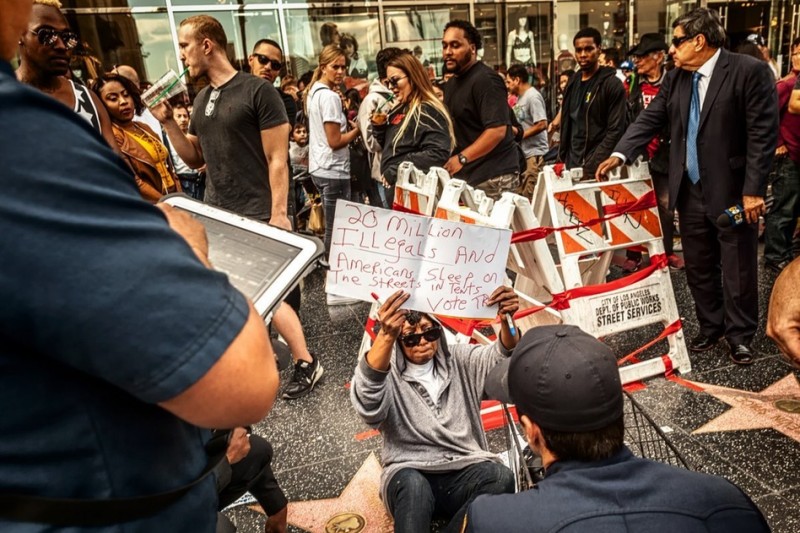 Denise Scott was exercising her freedom of speech while protecting Donald Trump's star in the Hollywood Walk of Fame when Pro-Clinton men attacked her. Source: GoFundMe
Okay, so we are all aware that Hillary Clinton supporters labeled President-elect Trump as a misogynist, among other things. So, when you accuse someone of having an anti-female attitude, the best thing you can do is respect women — right?
However some Clinton supporters approached things another way … they bullied a woman and beat her up. 
This happened before the election. After Trump's star in the Hollywood Walk of Fame was destroyed by activist Jamie Otis, an unidentified, homeless, African-American woman camped near Trump's star to guard it from vandals. She had erected a sign (seen in the photo above) that read, "20 Million Illegals and Americans sleep on the streets in tents. Vote Trump."
She was peacefully sitting when this happened:
If you live in Los Angeles, please contact @MichaelCohen212 if u know who this homeless Trump supporter is. The Trump team has a gift 4 her! pic.twitter.com/fxCyAodvTv

— Students for Trump (@SoCal4Trump) October 29, 2016
As you can see, the woman was verbally attacked, bullied and even assaulted with racial slurs by pro-Hillary people. One shoved her to the ground, while onlookers laughed.
Trump's attorney, Michael Cohen posted a tweet asking for the whereabouts of the woman because Trump wanted to help her.
Trump supporters also set up a GoFundMe page for the woman, now identified as Denise Scott. They are hoping to raise $100,000 to help Scott. So far, supporters have raised $38,300.
Now who's showing love, and who's showing hate? If you want to donate to Ms. Scott, you can visit the page here.