Photo credit | Arizona Daily Star
When it comes to free speech, there is no debate in the minds of leftists. In their upside-down world, only they have right to say and do as they please. A restaurant in Tucson, Arizona is finding that out after showing their support for President Trump. After posting their beliefs on Facebook, the owners are closing their doors over safety concerns.
Significantly, what started the backlash was a post by Cup It Up owners Christopher Smith and Jay Warren. In the lengthy post, Smith and Warren say it's time their make their feelings about certain issues very clear. The list of what they do and don't support is quite long, so we are sharing a screenshot of it.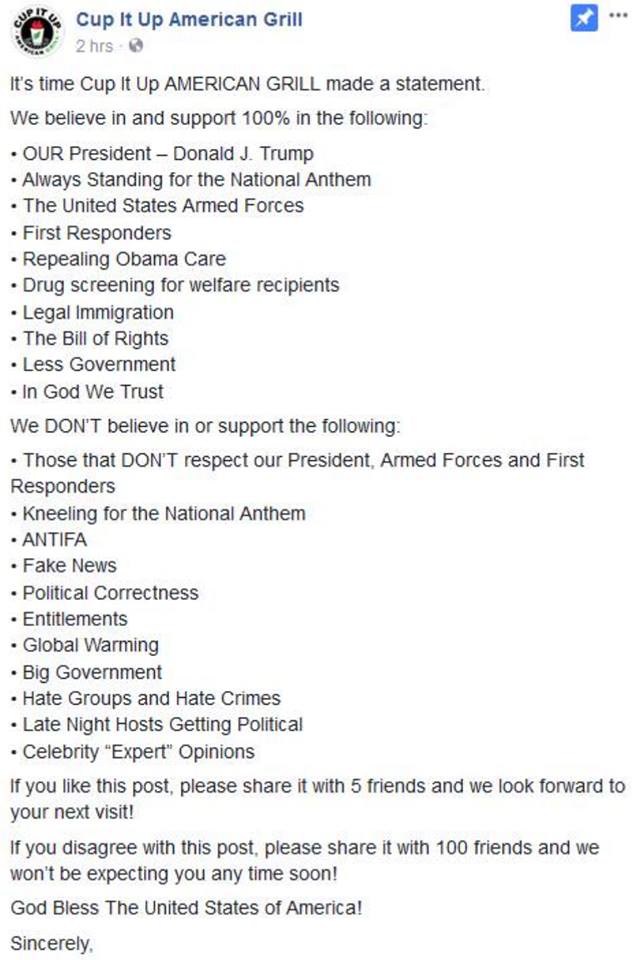 Unfortunately for the owners, the post quickly went viral and the backlash was harsh. Ron Sanchez, whose granddaughter works at the grill as a waitress, discusses the seriousness of the threats with ABC News. "People are threatening to burn down the restaurant with the owners in it," says Sanchez. "It's a crazy world we're in."
Consequently, last Monday Cup it Up announced to patrons they will be closing indefinitely. The owners, fearing for their own personal safety and that of their employees, have signs on the door explaining the closure. On the notices, they offer special thanks to their loyal customers along with military and first responders:
"Dear Loyal fans and Patrons of Cup it Up American Grill,
We have made a decision to close our doors indefinitely as of today, Monday, October 9, 2017. The safety of our employees, and our families is of great concern and is our #1 priority at this time. We would also like to extend a special thanks to our Military and First responders. Thank you all and God Bless." 
Interestingly, longtime customer Ericka Ayup supports Smith and Warren's right to share their personal beliefs. But, she also thinks it is a bad business decision. "I respected their decision to speak up and be patriotic whether people agree or not," says Ayup. "It wasn't smart for them to do what they did from a business aspect."
Too bad that argument isn't working for NFL fans.