'Vote Trump' Church Fire Mystery
First among the hate crime hoaxes was when an African-American man tried to frame Trump supporters for vandalism and arson a week before the election. He set his own church on fire and spray-painted "Vote Trump" on the Church to make it look like a hate crime.
Burnt African-American church that was also spray-painted with the words, "Vote Trump." Photo credit: AP Photo/Rogelio V. Solis
Hijab Theft Hoax
Photo credit: Adobe Stock
An 18-year-old Muslim woman was charged with filing a false report after lying about being robbed by two white men outside the University of Louisiana, Lafayette campus. She made a point to say that one of the men was wearing a Trump "Make America Great Again" cap.
Black Woman Harassment
Screen Shot: FaceBook
A black woman recanted and took down her viral Facebook post of being harassed by white men at a gas station. She didn't tell the truth until the police started investigating and found out about her lie.
Gay Man's Made Up Assault
Chris Ball's Facebook post. Photo credit: Facebook
A gay Canadian filmmaker made one of the first hate crime hoaxes. On election night, he posted a bloodied picture of himself in an emergency room as "evidence" that some Trump supporters bashed his head with a bottle and called him gay slurs outside a nightclub. Further investigation showed that none of it was true.
Another faux Muslim attack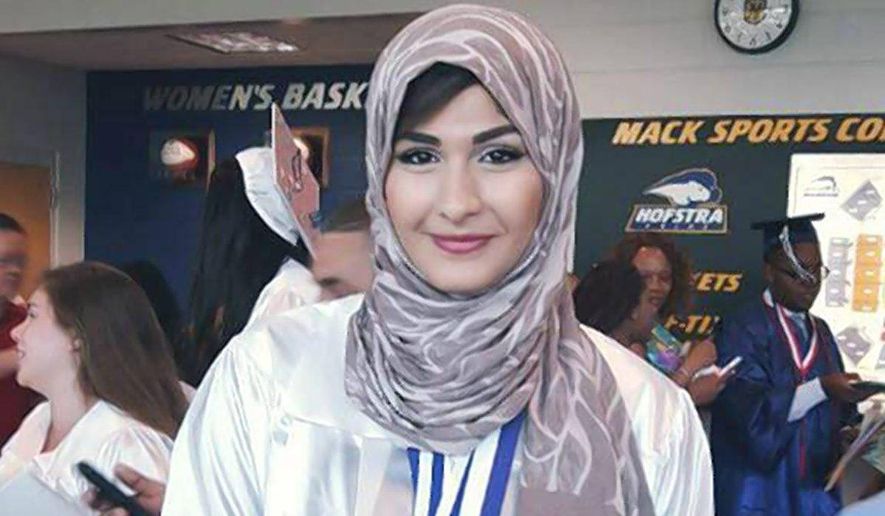 Yet another 18-year-old Muslim woman lied about being attacked in the New York subway just so she could escape her parents' punishment after missing her curfew. She claimed that the three drunk men who attacked her on the train cheered on Trump, told her to get out of the country, and accused her of being a terrorist.
Yasmin Seweid, was charged with filing a false police report after confessing that she made up the story about the Dec. 1 attack, according to the New York Daily News and CBS2. (Photo courtesy of Facebook).
Northwestern U Trump Swastika Hoax
Photo Credit: Northwestern
Two freshmen at Northwestern University made the most immature, racist, and homophobic attempts of all the hate crime hoaxes in the list. They spray-painted hateful comments along with Trump's name inside the university chapel to frame his supporters.
Aren't jokes supposed to be funny?
Photo Credit: Twitter
A Latino student sprayed "Bye Bye Latinos Hasta Lavista" at Elon University as a joke. The media took this on as a serious hate crime by a Trump supporter without investigating on the background story.
Bus Attack Hoax
From left, Ariel Agudio, Asha Burwell and Alexis Briggs were charged misdemeanor assault charges stemming from a bus fight. Photo Credit: Paul Buckowski/Times Union
Three students, including a black woman, lied about being attacked by white men on a bus and sparked outrage on social media and their campuses – even getting a tweet from Hillary Clinton. Turns out the story was the other way around. They were the aggressors towards a 19-year-old white woman.
Fake Attack, Fake Location
Photo Credit: Esquire
A black woman was not even in the location she claimed she was in, and kept changing her story when the police investigated. The Bowling Green State University student claimed that white, male students wearing Trump shirts threw rocks at her and yelled racial slurs at her.
Fake KKK Kidnapping
Photo Credit: CNN Fake Trump supporter
One of the craziest hate crime hoaxes has to be when a man faked his own kidnapping and wrote "KKK" and "Trump" with his own blood. He did this after he set his ex-girlfriend's car on fire, possibly just to throw off detectives.
Sponsored Links
Sponsored Links
Sponsored Links