If only every day could be filled with so much magic.
One B.C. dog walker has made all of us smile with her video of 13 Golden Retrievers going for a swim in the Nanaimo River.
VIDEO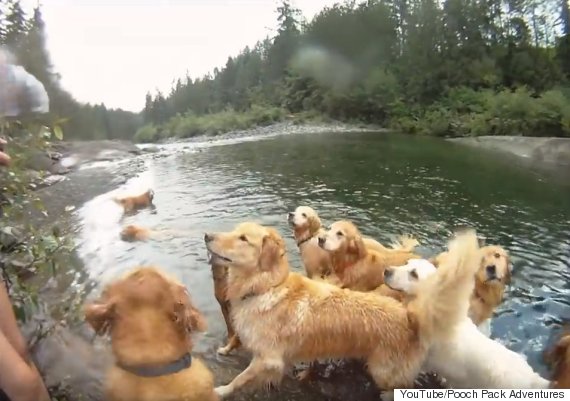 Kim Sirett, who runs , told The Huffington Post Canada that she's always loved the good-natured breed and they've grown to compose more and more of her clients at the off-leash dog-walking service.
A few years ago, she had the idea to take just them for a swim — an activity that nearly every Golden loves.
"I said to one of my staff, wouldn't it be an amazing day if we only had Golden Retrievers?"
So last Wednesday, for the fifth year in a row, she took a big pack of them for a dip. (And as in the past, a few Labradors were allowed to tag along. )
Pooch party
In the video, the pooches run full-tilt towards the water once they jump out of their van and then basically have a giant party in the river.
"There's nothing like a bunch of happy, smiling, tail-wagging Golden Retrievers."
Ain't that the truth.
Follow The Huffington Post B.C. on , , and .
Source
http://www.huffingtonpost.ca/2016/06/23/golden-retriever-video_n_10635720.html/