Attention, country music singers: You don't necessarily need to audition for "The Voice" to make it big. Look ― or listen? ― no further than the radio. 
On Monday, Cumulus Media launched its national search for America's newest country star with the help of some famous faces. The four-month-long competition, called NASH Next 2016, is headlined by country legend Reba McEntire and judged by fellow artists Kix Brooks of Brooks & Dunn and Jay DeMarcus of Rascal Flatts. The winner will receive a record deal with Big Machine Label Group, home to stars like Taylor Swift and Tim McGraw, and will be guaranteed extensive exposure on networks operated by Cumulus, the second-largest U.S. radio broadcaster. Big Machine's founder, president and CEO, Scott Borchetta, is also tapped to be a final judge in the competition.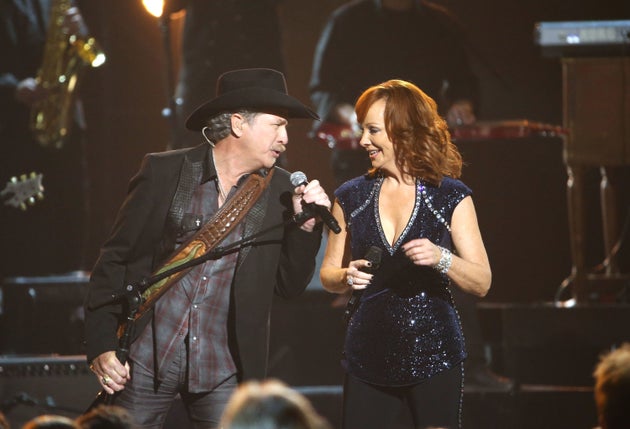 Terry Wyatt via Getty Images
Kix Brooks and Reba McEntire perform onstage at the 49th annual CMA Awards at the Bridgestone Arena on November 4, 2015 in Nashville, Tennessee.
"Except for Carrie Underwood and Kelly Clarkson, you'd be hard-pressed to come up with a household name of any of the stars that have been featured in contests on TV, because when it's over, it's kind of over for them," Brooks told The Huffington Post during a phone interview. "To have a record label get behind the artist that wins this contest, supported by a radio network, is sort of unprecedented. For the people who enter, there's more than just a platform here, there's a real opportunity."
DeMarcus, who has offered to produce the winner's original song, agreed. "Cumulus stands behind country music, and is providing someone an unbelievable opportunity to launch their career in a way that no other company or talent competition is with a recording contract on Big Machine Label Group, and the radio support on their stations that is so critical to making it big," he told HuffPost over email.
The contest starts at a grassroots level. Beginning Monday, artists can enter to compete in their area via the NASH Next website. They will then be judged on three challenges by three area music industry professionals, as well as by listeners in their communities. Contestants will have to submit an original song, adapt a popular hit in a new style, and write a verse and chorus to a phrase given to them. Local markets will then host live events or select their finalist by judging the contestants in a video performance of an original song.
Local winners will move on to the national challenge and submit a live performance video showcasing their best original song. The country music stars mentioned above and a Cumulus listener will select the top 10 artists, who will then compete at a live concert event in Nashville, in late fall, where the NASH Next winner will be selected by the celebrity panel.
As for what the judges are looking for, Brooks says it comes down to passion. "The fans will tell you what a great song is and most of us will recognize that, but sometimes a voice will just break your heart and there's no explaining it. Great singers are great singers ― it comes from the heart and it comes from the voice, and when those two things come together, you kind of smile and go, 'Man, that person's a star.'"
You can learn more about NASH Next 2016 here. 
Source
http://www.huffingtonpost.com/2016/07/08/countrys-biggest-stars-kick-off-search-for-americas-newest-hitmaker_n_10926120.html/