Crafts With Pebbles and Stones
Crafts with pebbles and stones are very easy to make, and the materials are readily available. However, not many people try their hand at making crafts using these readily available materials.
Stones and pebbles are the most underappreciated things commonly found. We kick them around like soccer balls and throw them across water to determine who's the best at skipping stones.
Rocks and bigger stones are mainly used for projects involving walls, floors, and fortification. Little do we know that we can make gorgeous crafts with pebbles and stones.
These craft ideas, using river stones and pebbles, will provide an earth-friendly and natural feel to your home or office. You don't need cement for these projects, so don't worry about waiting so long to use them.
Crafts with Pebbles #1: Placemats, Trivets, Doormats and Shower Mats
I grouped these projects into one item on this list because they require the same process to make.
For all of these projects, you are going to need pebbles or river stones, adhesive, and base. If you want the stones to be shiny, you can either buy those pre-glossed stones or apply polyurethane coat after you complete your project.
Your adhesive will depend on where you will put your output. I recommend waterproof adhesive in all cases.
Your base can vary from plastic or chicken wire or old rubber mat for doormats and shower mats. For placemats, consider using cork. You can use old CDs or cork for the trivets.
After gathering the materials, apply a small dot of adhesive on the stone and apply it on the base. Make sure to attach the pebbles on the perimeter of the base until you make a frame. You can fill the inside of the frame later.
Crafts with Pebbles #2: Candle Holders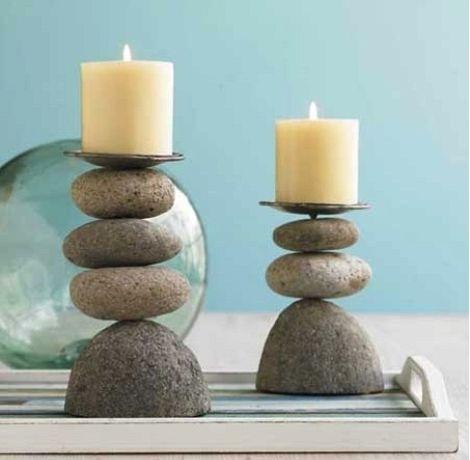 You would need ordinary pebbles for this one. The pebbles don't need to be shiny or anything unless you want them to be.
First of all, gather stones of varying sizes. You can stack them first, without gluing, to see what it will look like after. Glue them together using industrial-strength adhesive after.
If you are going to use bigger candles, attach a container to hold it in place and catch the melted wax. You can also just put a tea candle on top of the stack, only do this if the pebble on top is flat.
Make sure that the base you'll use is a flat stone. If you can't find a flat stone, you should find a wood base. Apply felt under your base to protect delicate furniture surfaces.
Crafts with Pebbles #3: Wall Art
If you have a lot of blank or plain wall space at home, you can make plenty of wall art using small pebbles. All you're going to need are small pebbles, glue, cardboard and your imagination.
Use can also use paint if you want colored wall arts.
This isn't something I can walk you through especially because pebbles come in different shapes and sizes and everyone has their own style. It would be hard to find two identical pebbles occurring naturally.
The important thing to remember is to make your work creative.  Use the pebbles as individual pieces that will form your artwork.
Alternatively, you could use these pebbles to make abstract mosaics if you have many different colored pebbles.
That's it! Three crafts with pebbles that prove these hard materials can be made into adorable things.
Have you made any of these? Share it below!