Why Amy Deserved a Way Better Proposal From Sheldon
photo by glamour.com In The Big Bang Theory Season 10 finale, we were left with the biggest cliffhanger in TBBT history. Sheldon proposed to Amy after a whirlwind of long distance problems, and in our opinion, she really deserved better.
Amy has been waiting a long time for this proposal from Sheldon. She has been patient, kind, and understanding when it comes to Sheldon's hesitations and quirks. We think she deserved a much more meaningful, and thoughtful proposal.
Amy first found out about Sheldon's engagement ring in The Meemaw Materialization, when Sheldon's meemaw came to visit and let the cat out of the bag. We all remember when Amy and Sheldon broke up, right as Sheldon showed he had planned to propose. Well, Meemaw let this fact slip, and Amy was completely in shock. Ever since then she's known that Sheldon was deeply hurt, but also capable of making such a lifechanging decision.
Photo by youtube.com
However, this time Sheldon's decision to propose seems to be fueled by guilt, and quick realizations. After Amy went to Princeton Sheldon was pursued unknowingly by Ramona, and when she went in for a quick kiss he was instantly taken aback. He didn't miss a beat flying straight to New Jersey, knocking on Amy's door, and proposing.
Why This Isn't Enough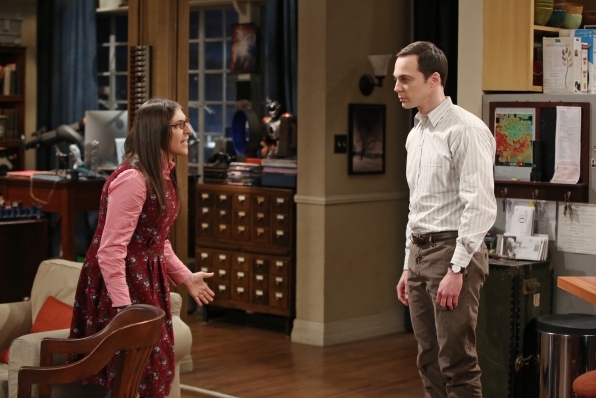 photo by ibtimesuk.com
While a snap decision to propose may seem romantic and flying across the country is definitely a grand gesture, we think Amy deserves more than a snap decision.
Plus, if Amy ever learns about the kiss she'll never be able to think about her engagement the same way. Regardless of whether Sheldon is actually motivated by guilt, he should have been upfront about the kiss immediately, instead of tainting one of life's most spectacular moments- getting engaged.
Sheldon could have explained the situation to Amy calmly, let her digest the news, and THEN planned to propose once all dirty laundry had been aired.
We do sincerely hope Amy says yes, but we're concerned that she will feel hurt and betrayed as soon as she finds out that the very day Sheldon asked her to marry him, he had kissed another woman.
What did you think of the season finale, and Sheldon proposing to Amy? Did Amy deserve better?