Mayim Bialik and Ryan McPartlin
photo by kveller.com
Mayim Bialik posted a sweet photo of herself and former costar Ryan McPartlin at the airport. We just can't get enough of how cute this guy is. So how do these two know each other? TBBT fans may have forgotten that they worked on a project for Lifetime together in the summer of 2015.

photo by kveller.com
Mayim Bialik spoke openly in 2015 about filming her first movie. Previously she had only been involved in television projects. Mayim lost her father in the same summer that she began filming with Ryan, and she told Kveller that she had to figure out how to balance excitement with mourning.
She explained that she started filming the project with prayer, because, "Judaism believes in tempering the ecstatic with the grounded, and being happy for my movie needs to, in my sensibility, be tempered with the reality that I am a mourner. Balance. Tension. More than one emotion at once."
1On Working With Ryan
photo by hollywoodnewssource.com
About her time on set with Ryan McPartlin, Mayim has said, "I did a movie for "Lifetime" co-starring Ryan McPartlin, who is mostly known for being super handsome, but is also really funny and goofy and a terrific actor and person."
Ryan began his career as an Abercrombie and Fitch model. This is really unsurprising considering his chiseled jaw, washboard abs, and sparkling blue eyes. He got his first acting gig on The Nanny, and worked his way up from there. He also happens to be a certified personal trainer.
The Movie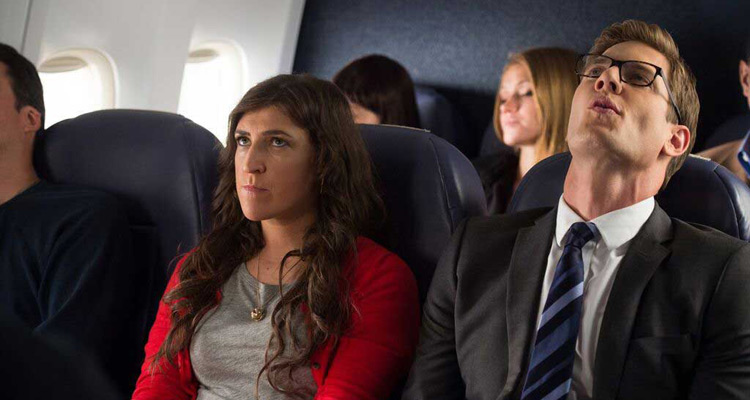 photo by toutletele.com
The movie that Mayim and Ryan filmed together is shockingly a Christmas movie. It's shocking because Mayim is very outspoken about her Jewish faith and does not celebrate Christmas.
However, of celebrating both holidays the star said, "Being in a Christmas movie was a little bit strange for me. I've never celebrated Christmas myself; I come from a traditional Jewish home where we did not celebrate Christmas. I have celebrated Christmas with my sons' grandparents who are not Jewish."
We want to see Mayim Bialik and Ryan McPartlin do more films together. Did you see Mayim Bialik's Lifetime movie?
Sponsored Links