The Big Bang Theory Producer Steve Holland Hints At Major Young Sheldon Cross Over
We've been dreaming up ideas for Big Bang Theory and Young Sheldon cross over episodes all year. Now, Steve Holland has finally revealed the writers are definitely considering it. Here's what we know so far.
Young Sheldon Cross Over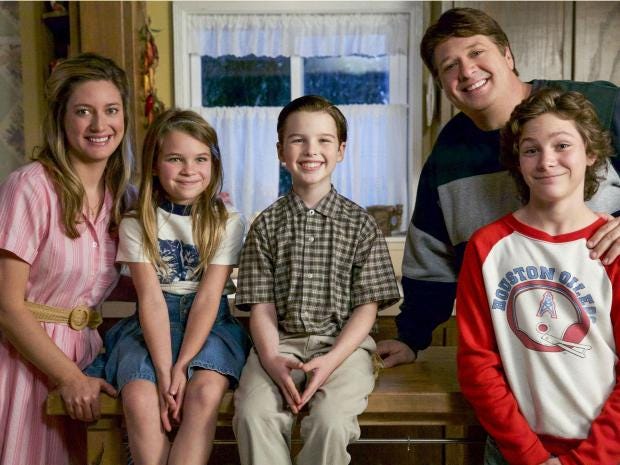 The Big Bang Theory spin-off series Young Sheldon has been growing in popularity all year. Fans are loving the story of Sheldon Cooper's life. We see Sheldon as a young boy, attending the high school where his older brother Georgie attends and his dad coaches football. His mother, Mary Cooper, is a shining light of religion and motherly instincts. We meet Mee Maw, and Missy, and we get an even deeper sense of where the Sheldon Cooper we've known and loved for so many years came from.
Has Young Sheldon Informed Big Bang?
While, of course, Big Bang Theory heavily influenced Young Sheldon, we haven't seen any huge influences from Young Sheldon in the parent series. When asked if Young Sheldon and Iain Armitage would ever influence his performance, Jim Parsons said, "No. That may come. It could just still be a matter of moving and growing and doing more episodes. At this point, if it has been anything that's informed me it has been on a more subconscious level, I would say. So not consciously, no."
The series itself really wanted to create its own separate fan base. Chuck Lorre said, "We never wanted to [necessarily] lean on Big Bang. I mean, the only real thread between the two is Jim's voice [narrating Young Sheldon]. So, it was just really important to build a show that lives and dies by its own merits." This is a smart business decision. TBBT is rumored to end after season 12, and Young Sheldon has the potential to live on for much longer.
Lorre also hinted that the series has a long ways to go. He said, "We didn't want to just do 'little Sheldon.' He's a work in progress. He's nine years old. There's a lot of growth and change that's going to take place. He's going to college in a couple of years. There's a couple of PhDs that are going to happen before he's 21 years old. There is an enormous amount of life that will change and mold this character, and we want to go slowly, and enjoy the ride."