3 HILARIOUS Sheldon Cooper Jokes That Will Make Your Day
Need a break from your hump day? Sit back and enjoy these hilarious Sheldon Cooper jokes. They're sure to make any workday speed by.
Sheldon Cooper Jokes
We love The Big Bang Theory jokes. TV Guide recently reported that the series averages about 5.8 jokes per minute… so there's definitely enough of them to go around. That's about 130 per episode… So we can't exactly remember every single one. However, there are quite a few that we die-hard fans keep in our back pocket in times of need. Sheldon Cooper jokes are sometimes exactly what you need to get through a long day at the office.
Sheldon Explains Crying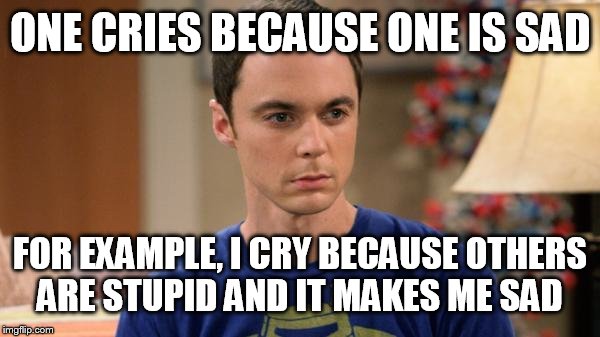 Sheldon: Why are you crying?
Penny: Because I'm stupid!
Sheldon: Well that's no reason to cry; one cries because one is sad. For example, I cry because others are stupid and it makes me sad.
Pretty much any situation where Sheldon is wrong about something is hilarious. Especially when it has to do with emotions or trying to comfort his friends. 
Sheldon Explains Conversations
Sheldon: I made tea.
Leonard: I don't want tea.
Sheldon: I didn't make you tea. This is my tea.
Leonard: Then why did you tell me?
Sheldon: It's a conversation starter.
Leonard: That's a horrible conversation starter.
Sheldon: Oh, is it? We're conversing. Checkmate.
However, it's also nice when Sheldon is right about something too. Plus, sometimes he's so wrong he's right, like when he pointed out that declaring you made tea is a great conversation starter. 
Sheldon Throws Shade
Leonard: I've dated plenty of women. There was Joyce Kim, Leslie Winkle…
Sheldon: Notify the editors of the Oxford English Dictionary, the word plenty has been redefined to mean two.
Finally, we love when Sheldon throws shade. He's the best at making his friends feel the absolute worst. He has enough sass for the entire gang, and seriously tells it like it is. Don't we all wish we could be so brave?
What are your favorite Sheldon Cooper jokes from through the years?