Willie Robertson recently released his new book, American Fisherman: How Our Nation's Anglers Founded, Fed, Financed, and Forever Shaped The USA. In an interview on Sway In the Morning, Willie revealed a few of the things he learned while writing the book.
Rise Of The Female Angler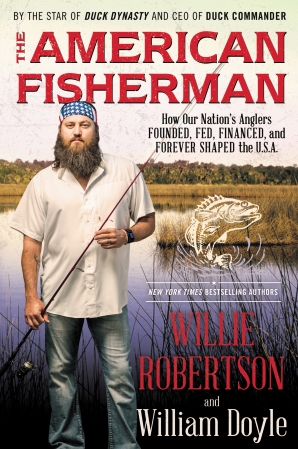 photo by harpercollins.com
Willie Robertson gave an interview to Sway Calloway of Sway In the Morning, about his new book The American Fisherman. He revealed that there is an entire chapter on female anglers. He explained that in the 1920's and 1930's, women began to become involved in fishing in the United States.
"We highlighted some of those women," Willie explained. "Some of them are super showmen, they could get out and really dazzle a crowd." He explained how crucial women are in both the fishing and hunting industries. "Just like everything in this country," Willie said, "half our country is women — and now we see it in hunting as well, the biggest growing segment is women."
Women Make Better Fishers
photo by pinterest.com
The Duck Dynasty star went so far as to state that women are better fishers than men. His reason? They are generally more patient. "You learn a lot about people when you go fishing," Willie said.
There is certainly a lot of girl-power in the Robertson household. Although the family believes in a traditional marriage, the women of Duck Dynasty have many of their own businesses and successful brands. Korie Robertson helped her husband to transform Duck Commander into the successful business that it is today.
We Have Native Americans to Thank
Willie also shared that he learned a lot about the Native Americans and their fishing techniques. While writing the book Robertson found lots of research about the native people of America and how they taught the settlers to fish.
"Supposedly, the first Thanksgiving they brought fish," Willie explained, "and eel and things that they knew how to fish. So we did learn a lot from them." He added, "It's just amazing what they were able to do."
Willie shared that they would use woven baskets to herd fish like cattle. These techniques are still used to this day. Robertson admitted that the Native Americans had to be successful in their fishing. "When your survival is based upon it, you either get good at it…or you die," he stated.
Willie Uses Fishing To Escape
photo by networth.com
Willie Robertson also shared how he loves to fish because of the escape it provides. "There's something about it," he shared, "you get out there away from your phone. It can really bring you down; bring you back to earth and the life you're living." Willie stated that he loves to get away from the chaos of the modern every day world.
The American Fisherman is in stores now and promises to teach viewers quite a bit about fishing and history. It sounds like it might just have some thoughts on appreciating women as well.