They haven't always had a crazy face of hair. These Duck Men used to be beardless! Take a look at these rare beardless photos of the Duck Dynasty Cast.
Brotherly Love
The brothers in this picture, Jase, Willie, and Jep, have grown famous for their luscious beards and redneck behavior. However, they grew up with much less than their own children now have.  The three brothers seem to have always been close, though.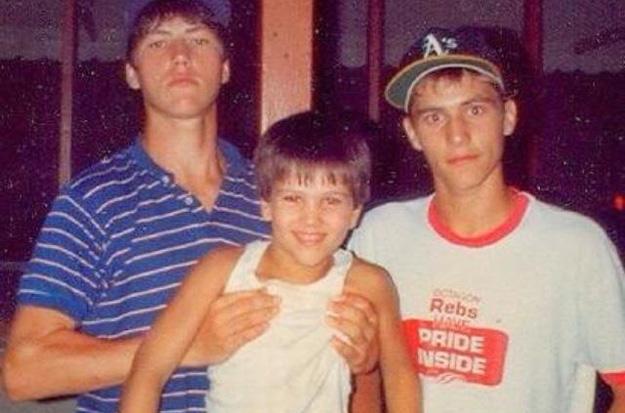 source: aetv.com
Family Comparison- Like Father Like Son
Photo by aetv.com
Check out this picture of Willie Robertson and Korie Robertson compared to John Luke and Mary Kate Robertson.  
Photo by usweekly.com
The resemblance between the two couples is uncanny, especially between father and son.  John Luke has those famous Robertson dimples and wide grin! Both couples were just teenagers when they wed! John Luke refers to himself as Young and Beardless, and Mary Kate named her blog, The Little Duck Wife. Meanwhile, Korie's self-appointed "Boss Hog's Wife" Instagram account has millions of followers.
Uncle Si As a Handsome Soldier
Photo by aetv.com
Uncle Si has his own spin-off series coming out soon. The show will be entitled, Going Si-ral, and is set to premiere after Duck Dynasty on November 16th. In this photo, he poses next to Christmas decorations. Si is known best for his crazy antics and hilarious quotes. A Vietnam veteran, Uncle Si served our country and continues to be proud of his fellow veterans today.
Photo by aetv.com
Here is a young Jep Robertson, the baby of the brothers. Jep is married to Jessica Robertson. The two released their book The Good The Bad and The Grace of God, which refers to painful teenage and young adult years. Jessica has vaguely mentioned partying college days, and Jep has admitted to sexual assault at a young age. However, the couple prevailed and pulled each other closer to God. We think their daughter Lily bears a striking resemblance to the youngest Duck Commander!
Compare their childhood pictures below!
Photo by aetv.com
Photo by aetv.com
Sadie's All Grown Up!
Photo by hollywoodlife.com
Photo by mrconservative.com
Before the family became America's first family in Reality TV, Willie Robertson was just a regular old dad with a regular old clean shaven face! The remarkable thing about this photo is little Sadie Robertson! She has surely grown into a beautiful young woman. With a white ribbon in her hair, she already had her prominent cheek bones and electrifying smile!
The Newlyweds Vs. Their Parents
We love this side by side comparison of Reed and Brighton Robertson with Reed's parents Jase and Missy Robertson. Missy and Jase were high school loves and appeared to be at a homecoming function. Reed and Brighton married just a few weeks ago at an outdoor ceremony in Louisana.
Photo by thegospelherald.com
Photo by aetv.com
The Duck Dynasty Family certainly are a beautiful example of love and community. It's fascinating to see the men without their beards! It's even cooler to see just how much they look like their kids under all that facial hair!