Since I am doing a quotes list, I decided that each character will get two lists. One for funny quotes and the other for more touching, sentimental quotes. These quotes were picked by me by using the quotes section on the Big Bang Theory's site. Unfortunately, Stuart doesn't have as many quotes as the other characters do. So here are some quotes in no particular order. These are not a reflection of the fan base, just me. But you find a quote you like anyway.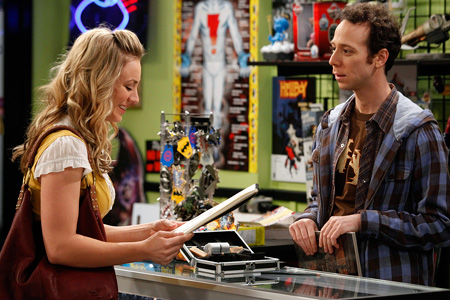 Credit: http://bigbangtheory.wikia.com/
Bernadette: Why are they staring?
Amy: Who cares? Just soak it in. Hello, boys.
Stuart: Oh, hey. (To the other customers) Could you please stop staring? They're just girls. It's nothing you haven't seen in movies or in drawings.
Penny: Hey, Stuart.
Stuart: What brings you guys here?
Bernadette: We were looking for a recommendation about comic books.
Stuart: Oh, well, I recommend you don't open a store and sell them.
Penny: No, we were just wondering why the guys like this stuff so much, so we thought wed give it a try.
Stuart: Oh, okay. What do you think you might be into? Superhero, fantasy, graphic novels, manga? (To the customers) I swear I will turn a hose on you.
Bernadette: What kind of comics do the guys like?
Stuart: Um, a little bit of everything. Mostly superhero stuff.
Amy: All right, well, who's the best superhero?
Stuart: Shh! You can't ask a question like that in here. Are you trying to start a rumble?
Howard: Certainly a lot more women are reading comic books now.
Stuart: It's true. In the store, I had to put a seat on the toilet.
Howard: If you really care that much, there are apps now that'll let you hire people to do stuff like errands and wait in lines.
Stuart: People are actually waiting in lines as a job? Boy, makes me feel better about my life.
Howard: Some of these guys make over $20 an hour.
Stuart: And now I feel worse again.
Amy: Hold on. He paid you to get out of spending time with me?
Stuart: No, it's not like that. There's a long line he'd rather stand in. So what are we doing? Old Navy, Build-A-Bear? I get paid either way.
Amy: We're not going shopping together.
Stuart: You sure? I'm happy to hold your bag. And Sheldon gave me money for a hotdog on a stick.
Amy: Can you understand why I might be annoyed right now?
Stuart: Look, lady, I just work here.
Raj: Hey, Stuart.
Stuart: Yeah?
Raj: Do you want to hang out tomorrow night, maybe grab a bite to eat or catch a late movie?
Stuart: Yeah, I'd like to, but I'm a little tight on funds.
Raj: No problem. My treat. I'll swing by after work.
Stuart: Okay.
Raj: Okay.
(After Raj leaves)
Stuart: I could do worse.
Penny: Uh, have you read the online reviews for this place?
Stuart: Eh, the Internet's so negative. I try to avoid it.
Penny: All right. Well, Heather H. says, "The owner stared at me the whole time and didn't blink once."
     Kelly M. says, "The creepy guy who runs it asked me out, then called himself stupid  before I could say no."
     Jessica K. says, "I told the weird owner that I liked his shirt. He took it off and gave it to me."
     Stuart: See? Negative.
Stuart: When I was a baby, my mother called me her little possum.
Raj: Are possums cute?
Stuart: Not at all.
Stuart: I can't believe she's gone. That woman took me in. If it wasn't for her, I would have been homeless.
Amy: One of us would have taken you in.
Stuart: Yeah, I don't recall any offers. But you know what, I'm glad it worked out the way it did, because I got to know this wonderful person.