Here's Why Phil Robertson Says We Need To Stop Worrying About Guns
Fans have been eagerly awaiting Phil Robertson to address the major gun-control debates going on right now. And he did…sort of. Phil Robertson held up an assault rifle in his latest video…but believes we should all use the Bible instead.
Phil Robertson's Sword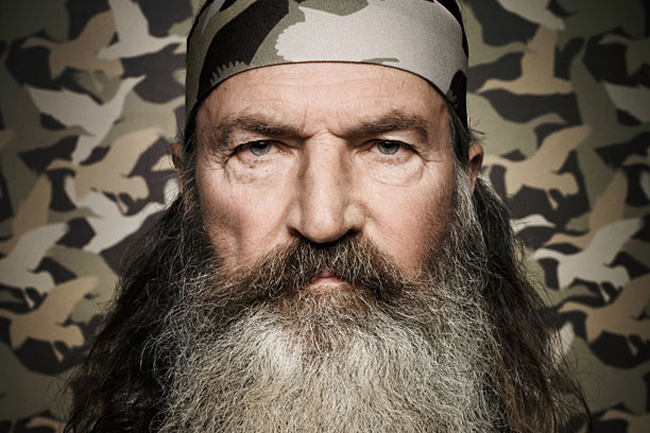 When we think of Phil Robertson in his element we picture a man dressed in camouflage. He's standing in the woods, or perhaps a duck blind. He has eye black smeared on his face, a rifle in his hand, and he's patiently waiting for a duck to step into his range.
We don't necessarily picture Duck Dynasty's patriarch drawing a sword in these moments. However, Phil says he's armed with an important weapon, and it's not a gun.
In a promotional video for In The Woods With Phil, the duckman states, "So I have here an earthly weapon. It's a firearm. I would never want to use that against another man." Then he holds up the Bible, and the tone changes. "This is also a weapon. It's called a sword. The sword of the spirit. You want to stop murder world wide? You're focusing on the wrong weapon. This, this will stop human beings from murdering one another."
Yes, Phil Robertson believes that he can put on the armor of God, like in Ephesians 6:10-18, and use the sword of the spirit to change America today. Ephesians says, "Put on the full armor of God, so that you can take your stand against the devil's schemes." Phil believes in this wholeheartedly.
Worrying About The Wrong Thing
This isn't the first time Phil has warned against worrying about the wrong things. He said previously, "Don't worry about the one who can kill the body, you don't worry about him; you worry about the one — the God of heaven — who can destroy both body and soul in hell." He added, "Satan is the problem. Jesus has destroyed him on our behalf … no one can kill us, not body and soul. They may get our bodies, but we live on. We get our bodies back."
Do you agree with Phil Robertson? Should we be focusing less on gun control, and more on Biblical teachings?