Mayim Bialik Interviews Her Own Son About His Love Of Writing
Mayim Bialik's Son
Mayim Bialik often interviews her friends about family on her website Groknation. Her young son Miles Bialik is just 11 and a half years old. Mayim decided to interview Miles about his writing on "Encourage Young Writers Day."
She described his answers as "a healthy does of snark and wisdom." Here's what he had to say.
Mayim ended up telling Miles that the interview wasn't going to be very interesting after a few failed attempts to gauge his attention. Mayim Bialik's son had recently been enrolled in a writing class. The eager mom prompted her son, asking him what he was learning. However, the 11 year old didn't seem keen to explain. 
It went a little something like this:
MAYIM: What are some of the examples of grammar that you have to incorporate into your essay?
MILES: Well, there's not much grammar.
MAYIM: Okay, this is not a very interesting interview. [Miles laughed at the mama sarcasm.]
Miles went on giving confusing and vague answers, like 11 year-olds do. It's clear that Mayim finds her son adorable and charming. She frequently laughs at his inability to explain and adorable confusion. However, it's clear she wants the best for her son and wants to challenge him.
Mayim Explains Her Parenting Decisions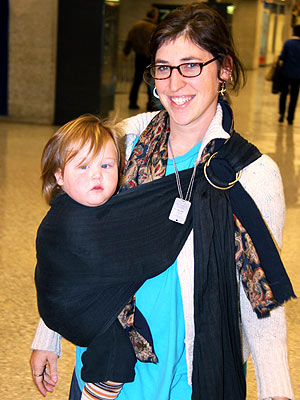 Mayim is known for her strange parenting decisions. She prescribes to the attachment parenting style. She home-schools her children, and feeds them an all vegan diet. She explained that she wants to enroll Miles in this challenging writing class because she values the way she was brought up. Mayim explained, "I was raised with a very strict old fashioned notion of learning proper grammar and proper writing. Part of the living that I make is as a writer now and I'm very grateful for all that training."
Do you think Mayim Bialik's son seems to enjoy the writing class? Would you put your child in a challenging environment?
 You can read the full interview HERE
Sponsored Links