Mayim Bialik is currently on a press tour for her new book Girling Up: How To Be Strong Smart and Spectacular. She told Paste Magazine that she had some very strong opinions about how the book should be presented and marketed.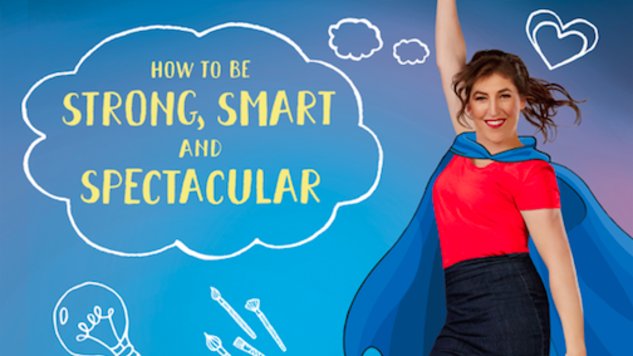 photo by pastemagazine.com When it came time to pick out a cover for her new book, Mayim Bialik did not want a glamor shot type look. Mayim said, "Originally, it was pitched to me that we do a pretty glamor shot of me, with my hands on my chin, looking very smart with glasses and appropriate sparkly makeup. I rarely put my foot down about things firmly, but I said, 'Absolutely not.'"
photo by amazon.com
The book is all about empowering girls and guiding them to be smart and confident strong women. Mayim felt that a glamor shot sent the wrong message. She then came up with the idea for a super-hero themed cover- one which Amy Farrah Fowler would totally love. Mayim said, "Everybody on our creative team was able to get on board with more of a playful and quirky look for the whole book as opposed to a sleek "Ooh, celebrity scientist" look, which kind of makes me nauseous."
Mayim's Youtube Success
photo by fox5newyork.com
Mayim also touched on her Youtube success. The star's video channel has over 180,000 subscribers, and most of her videos rake in upwards of 100,000 views. Recently she created a post about calling women "girls" that garnished a whole lot of media attention. Mayim said, "I'm constantly being encouraged to spend my time, my money and my energy to make a personal investment in the YouTube space."
However, she still feels that regular old paper and hardback books are important tools. She explained, "I'm old fashioned. I was old when I was 10 years old, so at 41, I know that I'm like a dinosaur. But I still have the reference book that I used as a kid for learning about my body and my brain."
Will you be reading Mayim's book, Girling Up: How to be Strong Smart and Spectacular?