Look How Adorable Kaley Cuoco Was In This Throwback Cosmo Photo Shoot VIDEO
Kaley Cuoco Behind the Scenes
We found this adorable video of Kaley Cuoco shooting for her second Cosmo cover. The magazine frequently features young hot and sexy women who have a message of empowerment. In this Kaley Cuoco behind the scenes interview, we get a little taste of what Kaley thinks of fashion these days.
Kaley Loves Cosmo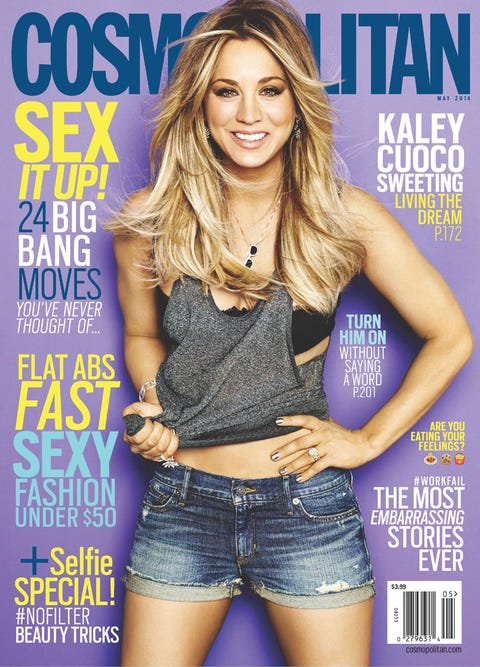 "I thought I was excited about my first, but being asked back a second time feels even better." Kaley opened up about her love for the magazine, and what she thinks makes it so great. She said, "you know it's a great magazine, the covers are always so bright and beautiful. The girls always look hot. The clothes are amazing. There's fun stuff inside, great stories." 
She's Over Heels
Kaley started talking about fashion. She revealed she likes to mix high and low items, something a lot of stars admit to. Then she said something that caught us off guard. Kaley referred to her feet as "broken" and said she is totally done wearing heels. She added, "I'm really excited because all these designers are coming out with tennis shoes- these very fashiony fun sporty shoes, so that's what I'm into right now."
She's Also Over Purses
On top of being over the pain of high heels, Kaley admitted she's over one shoulder purses now too. She says backpacks are her new jam, calling them another really smart idea. She exclaimed, "Put a backpack on. My back is not broken anymore, and neither are my feet!" Sounds like the TBBT actress is all about comfort these days.
She's Made Great Choices
Kaley Cuoco attributes her successful career to "really great choices." She said, "I've been in this business for 25 years. I think I've made really great choices. I have amazing friends and family around me who help me with those choices and I think those things make you feel confident."
Would you buy a Cosmo with Kaley Cuoco on the cover?
Sponsored Links