Korie Robertson has spoken out. After the Duck Dynasty Robertson family announced that season 11 would be the final season of Duck Dynasty, many fans were waiting to hear directly from the family as to why. Korie has broken the silence, and had quite a few things to say about the family's decision.
Family Decision
photo by hollywoodlife.com
Korie spoke with People Magazine about the family's November 16th announcement. In the Wednesday night episode, the Robertsons announced they had "made the decision as a family," to cease filming of the reality TV series. However, many fans wondered if there was pressure from the network to cancel Duck Dynasty. In her interview Korie repeated that this was in fact a family decision. "You know it feels like it's time," Korie stated repeatedly.
The Robertson Kids Have Grown Up On Television
photo by usweekly.com
Many fans are curious to see what the Duck Commander's children do. Sadie Robertson, John Luke Robertson, and Reed Robertson have all gained popularity and fame from the show. They are just starting out as young adults and it will be interesting to see what life has for them next. Korie admitted that so much has happened since the show premiered in 2012. "It has been five years, and it's been an awesome ride. It's been so much fun. You know it feels like it's time. We've been doing like 130 episodes or something crazy like that." Korie explains, "And it's fun, it's like we have these really awesome home movies. You've seen our kids grow up through the years. You went to John Luke and Mary Kate's wedding, and all kinds of fun things have happened. So we are just so grateful for the whole experience."
The Family Is Sad…And Happy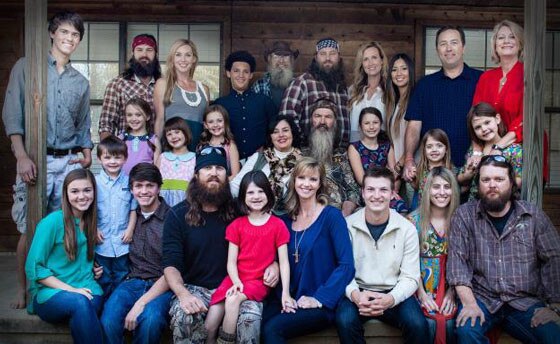 photo by enews.com
Korie Robertson explained that the family was both nervous for the next step, but also excited. She told People, "It was a little bittersweet. Whenever we made the announcement we were all just kind of like 'Okay what's going to be the response?" We just had such amazing support from fans…It's bittersweet. We're happy to move on to another chapter, but we're also like 'awe we're gonna miss this!" Many fans knew cancellation was inevitable after a slow decline in ratings. Few thought the family would make the decision on their own.
The Robertsons Are Stronger Than Ever
photo by metro.com
Korie also expressed gratitude for the show. Filming a reality TV show can sometimes put a strain on relationships, but the Robertsons seem to have bonded and become an even stronger unit. "It really even brought us closer," Korie gushed. "You know it just kind of forces you to be together even more whenever you're filming. And then you're like waiting around; you're sitting around talking and all that. So we have fun doing it, and we've really grown even closer as a family."
There's no doubt many fans will be sad this week to hear Duck Dynasty is cancelled. Korie Robertson has spoken first, time will tell which other family members share their opinions on the family decision.