BREAKING: Kaley Cuoco Spotted Here…
Kaley Cuoco At Ali Fedotowsky's Wedding
Kaley Cuoco attended a pal's wedding this weekend, and posted about the event on her Instagram. That friend happens to be famous in her own right. It's Ali Fedotowsky, former Bachelorette and current E! News host.
Kaley And Her Girls
Kaley posted a "Boomerang" video to Instagram of her and seven other friends at Fedotowsky's nuptials. Kaley captioned the photo, "My girls ?never changes." Kaley has been known to be a fiercely loyal friend. She loves her girls. 
Bachelorette Alum Finds Love
The Bachelorette alum, Ali Fedotowsky, has finally said I do. Ali said, "Today has been far better than anything I could have dreamt up,' Ali gushed. 'Kevin is the one true love of my life, and I feel insanely lucky to call him my husband. I am honored to be Mrs. Manno." This wedding had been rescheduled after Ali found out she was pregnant. The couple began dating in 2013, got engaged in 2015, and were set to marry January 2016. However, when Ali became pregnant they decided to put the ceremony on hold.
The couple's seven-month-old daughter, Molly, could be seeing wearing an adorable creme colored outfit at the event. The wedding took place at a resort at a California luxury resort. Other wedding plans were once again spoiled. The couple had planned to get married in Mexico, but due to Zika decided to stay state-side.
Besides Kaley, other star attendees included Haylie Duff, and Andi Dorfman. There was also a bit of an 8 Simple Rules cast reunion. Amy Davidson can be seen on the far left of Kaley's Instagram video. The actress played Kaley's younger sister on the show, even though she is actually older than Cuoco.
This isn't the first time the former onscreen sisters have reunited.
Amy's Baby Shower
Kaley Cuoco threw Amy Davidson's baby shower earlier last year. Kaley clearly loves showing up for her friends. 
Amy had said of that event, "Kaley is one of the best hostesses I know — even when we do Bachelor night! It was relaxed and beautiful." Hmmm…Bachelor night…Seems like that might be when Kaley Cuoco first became a fan of Ali. Or perhaps she was watching to cheer on her friend.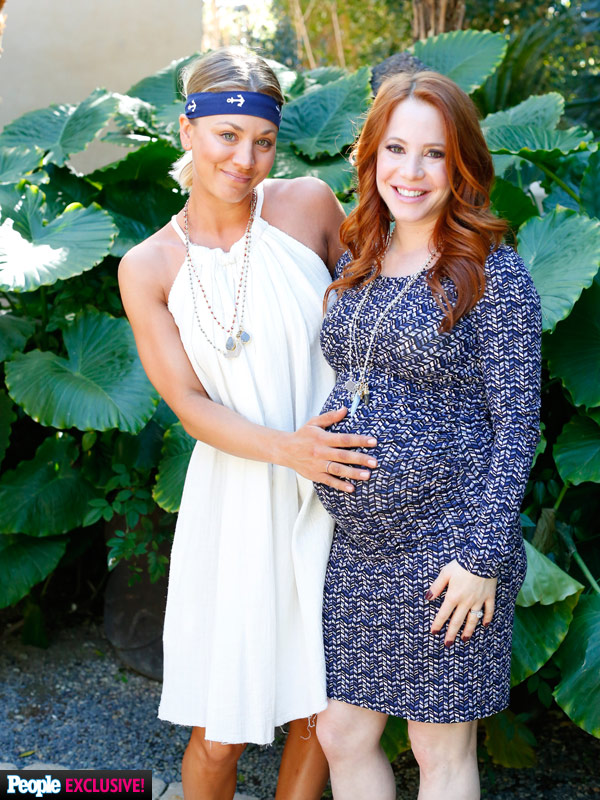 Either way, now we know that Kaley Cuoco must be a huge Bachelor Franchise fan. It's great to see her hanging out with her gal-pals.
Sponsored Links
Sponsored Links