Uncle Si Makes Major Announcement… Look What He Released
Uncle Si has finally opened up about the new EP he and his band released this year. Si is no stranger to the limelight of the entertainment industry. However, the music side of things can be a totally new ballpark.
Uncle Si and The Sicotics
Uncle Si and the Sicotics is the name of the new band starring Si Robertson, his daughter-in-law Marsha, and Bridgette Tatum. Their website states, "A journey through music with straitjackets, rubber chickens, rhinestones and eclectic entertainment! Uncle Si and the Si-Cotics is the brainchild of Uncle Si himself (Yes, that guy from Duck Dynasty) and his daughter-in-law, Marsha Robertson, mixed up with a lotta-bit of Bridgette Tatum (writer of Jason Aldean's 2-week #1 hit "She's Country"). All three were raised on good country music, rock 'n' roll and southern Gospel."
Apparently, what started off as a joke turned into a full-fledged band. Si recently told Billboard that he attended a charity event thrown by his daughter-in-law, and the idea spurred from there. He explained, "That's where we met Miss Bridgette Tatum. We got to joking around about possibly writing some songs and then recording them, go out and sing on the road – just have fun. That's what we wound up doing."
The three are an unlikely pair and have a large age difference. They're also from totally different worlds. Duck Dynasty fans know how senile Si can be and Bridgette is a successful songwriter from Nashville- a pretty big metropolis in comparison to West Monroe Louisiana. However, it seems they're making it work, and they're creating great music.
Their New EP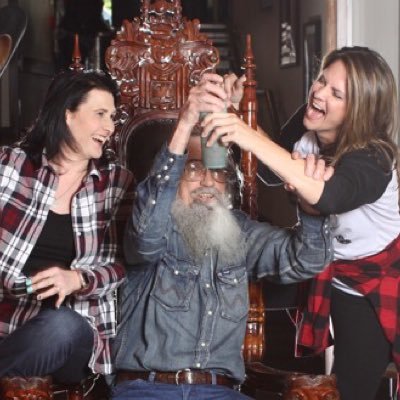 Their new EP features 6 songs titled, As Seen On TV, Huntin' Somethin, The Yee-Haw Song, Throwback Man, Garrison, and Chicken Puddin'. 
It sounds like each song is unique. However, Garrison is particularly sentimental and represents Marsha's late father. She told Billboard, "I wanted to write this song. I tried for a while and it just never came. But, when we met Bridgette, we sat down and I told her about my idea to write the song. God just opened the doors, and we wrote it in about two hours. It's one that I'm really proud of."
Sounds like we might both laugh and cry at this album. Will you be downloading Uncle Si and the Sicotic's album?