Phil's "Shocking" Marriage Advice May Be Too Far For Even His Big Fans
Phil Robertson is known for his off-the-cuff remarks, conservative Christian beliefs, and political incorrectness. Now, with his endorsed candidate Roy Moore in hot water for sexual misconduct allegations, it seems fans are scrutinizing Phil Robertson more than ever. Here's what he's said in the past about marriage and relationships.
Phil Robertson's Marital Advice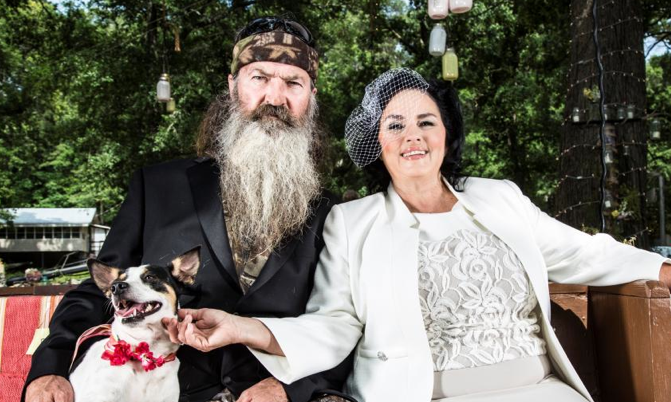 Previously Phil Robertson has advised men to marry as young as possible. It's a Robertson tradition to marry young. Willie and Korie were married when they were only 18 and 19. Their son, John Luke, wed his wife Mary Kate followed their example and married at 18 years old. Missy and Jase Robertson were also 19 when they wed. Perhaps it was their family's patriarch, Phil, who influenced all of these couples to get married so young.
Phil previously stated in a released video, "They got to where they're getting hard to find, mainly because these boys are waiting 'til they get to be about 20 years old before they marry 'em. Look, you wait 'til they get to be 20 years old the only picking that's going to take place is your pocket. You got to marry these girls when they are about 15 or 16. They'll pick your ducks."
Phil married his own wife, Miss Kay, at only 16 years old. They had to have parental consent at that age, but clearly that wasn't a problem. 
How To Pick Them
Phil also had advice about how to pick a wife. He wasn't as interested in looks and personality as most men are. Instead, Phil is interested in the woman's ability to cook and her love for the Lord. He said in the video, "Make sure that she can cook a meal. You need to eat some meals that she cooks, check that out. Make sure she carries her Bible. That'll save you a lot of trouble down the road."
Phil and Miss Kay have had their fair share of marital problems. When you marry that young you still have a lot of growing up to do. However, they have relied on their faith to get them through the tough times. Do you advise your own family members to marry as young as Phil Robertson does?