Miss Kay Reveals What No One Knew About Her And Phil's Marriage…
Miss Kay Robertson has been through quite a bit in her life. Being married to Phil Robertson for 51 years has been no walk in the park. Here's what she's had to say about the dark times in her marriage, and about abuse from her childhood.
Phil Robertson's Drinking
Phil Robertson is a beacon of conservative Christian values. He preaches forgiveness, love, and conservative politics. However, he hasn't always followed the straight and narrow path. At the beginning of his relationship with Kay Robertson, he found alcohol and was not easy to be married to.
Miss Kay recalls, "Some people they get drunk and they're happy, happy, happy. Phil would be happy but then he would get mean and very cruel with his words." Phil was a mean drunk, and also sought the love of other women. His adultery weighed on Miss Kay, who relied on her children for support. She said, "…Alan was my rock. Had I not had him those first 10 years…He never got to play baseball like the other kids. He was taking care of his brothers and helping me. I tell Jase and Willie, 'You've never thanked him enough for taking care of you when you were little.'" She admits she harbors guilt for the burdens her oldest son had to bear. "Sometimes I cried because he didn't have a regular childhood…" she explained.
Phil's drinking wasn't the first time Miss Kay had been around an alcoholic. She told CNN that the secretary at her childhood church abused alcohol, as did her Uncle. She said, "My daddy drank but not that much. Yeah that was hard…" 
Answered Prayers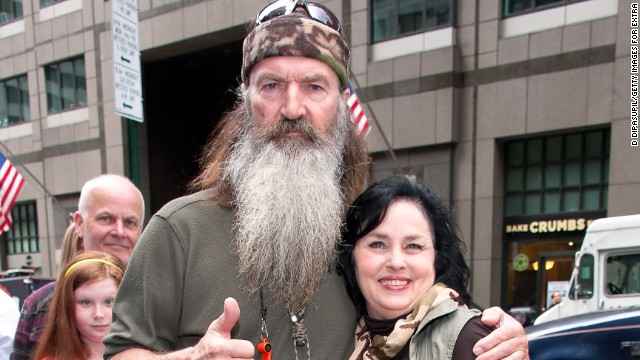 With so much abuse in her life, it's hard to imagine how Miss Kay got through. However, she always had her faith and inevitably she says prayer got her through. She explained she would tell her children, "Your dad is a good man. He has a good heart but right now the he's letting the devil control him and that's who we should hate – the devil and not Phil. We'll pray and pray that the devil will leave him but he has to make the choice to do that."
Ultimately Phil Robertson did sober up and was able to create an entire empire with Kay Robertson. Can you believe their rags to riches story? Would you be able to wait for better days like Miss Kay did?