These Duck Dynasty Halloween Costumes Are So Easy To Recreate…
Are you looking to create a Duck Dynasty Halloween costume? We've got plenty of inspiration for you. Here's how to transform yourself into a Robertson for the holiday.
Duck Dynasty Halloween Costumes
Duck Dynasty Halloween costumes are still as popular as ever. The first year the show premiered, fans realized a Robertson costume was a great option. It's easily recognizable, relatively easy, and super comfortable.
If you want to be a Duck man for Halloween, your costume is pretty easy to make. Slap on some camouflage, a fake (or real!) beard, and maybe a pair of cargo pants. You can take it one step further a personalize the look to make yourself a specific Robertson man.
If you want to be Uncle Si, make sure to hold a blue plastic cup. You can find the iconic Duck Dynasty merchandise on Amazon. Si says he's carried the cup with him since the day he received it as a gift in Vietnam. His mom sent it to him, and he brings it everywhere he goes. 
If you'd rather be the CEO in charge, you'll have to dress as Willie Robertson. An American flag bandana is a great way to distinguish yourself. Make sure you boss your family and friends around as well.
Fans have loved dressing up as the different couples over the years. The Robertson couples are very well known, and people are bound to recognize your disguise.
This couple dressed as Jep and Jessica. Jessica's bright blonde hair and Jep's dark shades give the identity away.
Sadie Robertson's Costume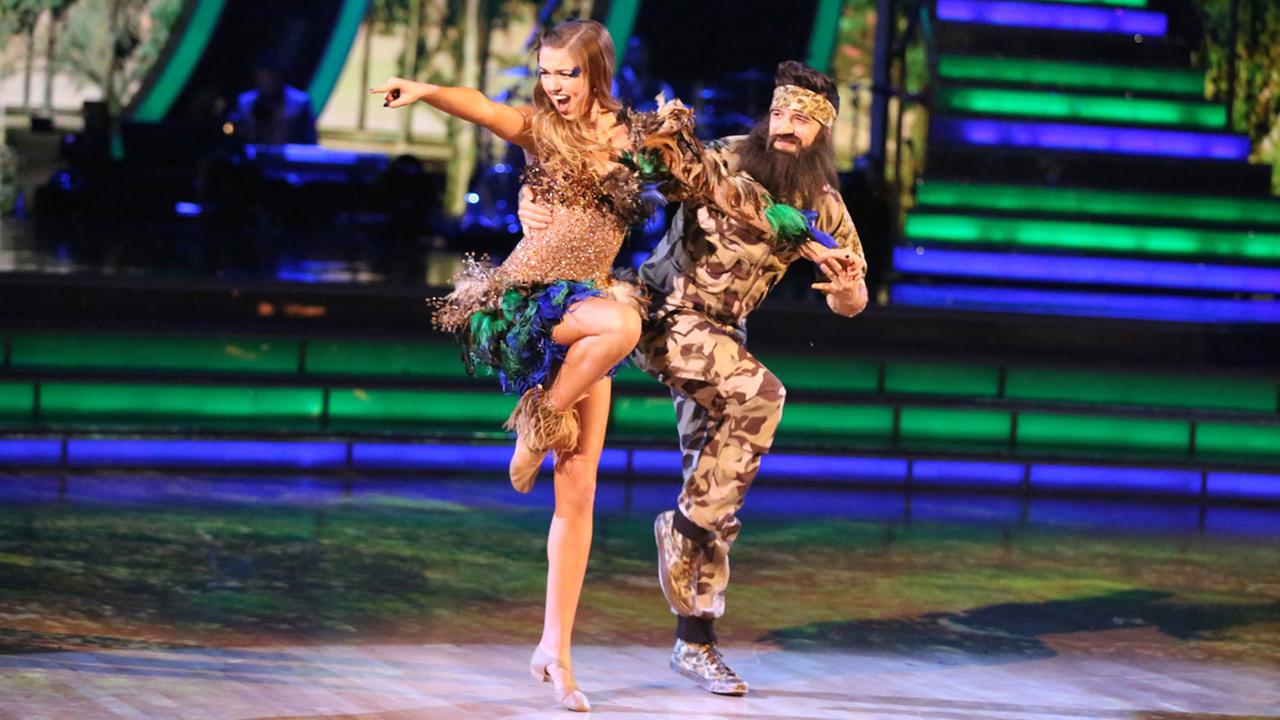 If you'd rather dress as Sadie Robertson, you might have to work a little harder. Her Duck Dynasty dance on Dancing With The Stars would be a great costume to recreate. Secure feathers to a cutout ensemble, and pair with sparkly tights and shows.
You could also wear Live Original merchandise. Sadie's tour, Live Original has great options when it comes to their logo, and the brand is easily recognizable to true Duck Dynasty fans.
When it comes to creating Duck Dynasty Halloween costumes all you need is a little creativity… and a lot of camouflage.