7 Duck Dynasty Season 11 Quotes: Explosives, Male Models, and Snakes
Season 11 of Duck Dynasty is underway. This will be the final season of the hit reality show, and the Robertson family is going out with a bang…literally. Here are 7 Duck Dynasty season 11 quotes that are sure to make you laugh.
The Robertson Love Animals
"I remember a lot of funerals in my life. Some were for two-legged creatures, some were for four." -Jase Robertson
The Robertson family surely is unique. In a recent episode of Duck Dynasty, Miss Kay asked her son Jase and his family to help her commemorate the life of her pet squirrel. The creature's name was "Earl the Squirrel," and the family took turns remembering his finest furry traits.
Jase Dreams Big
"Ideally I'd like to form the magnificent 7. But realistically…I'll take what I can get." -Jase Robertson
Jase always has a flare for the dramatic. In this particular episode, he sought revenge for the squirrel's life. He aimed to create a "posse" that would take out the snake that killed Earl. It's all very serious business.
Jep's Brothers Just Don't Understand Him
"Even Billy the kid didn't play with toys…and his name was Billy the Kid." -Jase Robertson
When Jase sees his younger brother playing with a remote control truck he can't help but taunt him. Poor Jep is quick to explain that it's not a toy, it's a machine. Jase can't accept that classification.
Uncle Si Doesn't Like Smart
"Young folks today are too focused on smartphones, smart watches, and smart water. I'm not about anything smart." -Si Robertson
You can't-never-blame Uncle Si for his hilarious logic. He prefers to do things the old fashioned way. 
It's Always A Good Time For Dynamite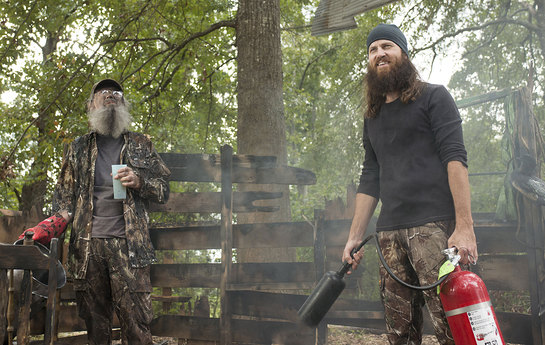 "There are times in life that demand quick swift assured action…there are also times in life that demand dynamite." -Jase Robertson
The Robertson men love their explosives. They've blown up duck blinds, boats, trucks…you name it and they've set it ablaze.
No Really, They Love Dynamite
"Seeing that ball of fire, and smelling the smell of burning snake; it does something to a man. And to share that with your son, this is manhood 101." -Jase Robertson
In the third episode of season 11, Jase shares a moment of explosion with his middle son Cole. The Duck Commander men strap dynamite to a remote control truck and drive it straight into a boat filled with snakes. It's a totally normal father/son bonding activity.
Uncle Si Takes His Male Modeling Seriously
"I'm the Cindy Crawford of bearded camouflage wearing southern senior citizen hunters." -Si Robertson
Yeah…We'll just let that one soak in.