8 Best Quotes on Family, Faith, and Fame by Duck Dynasty Cast Member
Jase Robertson is a Duck Dynasty cast member, public speaker, author, and entrepreneur.  
photo by duckcommander.com
8 Great Quotes
1. "The toughest thing about doing a TV show…and Duck season every year is three months…I actually have a job making Duck Calls…The toughest part is — where's the time for your kids."
Jase Robertson expressed his struggles with finding family time in an interview with Oklahoma Christian University. He told the interviewer that everyday he aims to make a positive impact in his children's life. Jase's kids are named Reed, Cole, and Mia. Because of their lack of quantity in time, he has decided to focus on quality.  
2. "We have the maturity to realize fame is fleeting, and money is fleeting. What counts is your faith and your family."
photo by aetv.com
Jase and Missy Robertson have raised good kids. They also hold strong to their faith, like all of the Duck Dynasty cast members and Robertson family. Recently Jase's son, Reed, married Brighton Thompson. Both of the newly weds are Christians and speak freely about their beliefs on social media. They are a family that focuses on their religion and values above all else.
3. "My kids — that's my primary responsiblity of who I want to see in Heaven."
photo by aetv.com
Living a life in the limelight, Jase hasn't lost his main goal. He keeps his eye on the prize; eternal life. This means spreading his faith and beliefs throughout the country through speaking engagements and the Duck Dynasty series. However, Jase expresses that the most important people to share this faith with are his children. They are his top priority and he hopes to raise them right.
4. "There was a little bit of culture show when the crew showed up from LA. You would think it was a culture shock for us, but it was more of a culture shock for them."
In the interview with OCU, Jase states that the crew and entertainment department were shocked to see how the Robertsons live their lives. He recalls singing hymns and being outdoors all day. These Los Angeles natives didn't know what to make of that.  
5. "When you're sincere, and things are real, that's what people want to see."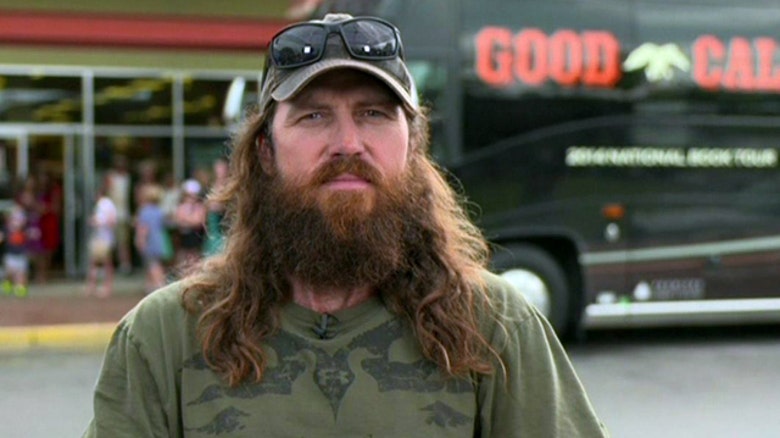 photo by foxnews.com
The entire Duck Dynasty cast credits their success with their genuine nature and commitment to their message. Jase Robertson has said that originally the producers of the show were wary about just how much of the Robertson's faith to show on film. However, the crew quickly realized that this was the most important part of Duck Dynasty life, and would need to be showcased.
6. "Actually I'm not growing it, it's just happening."
Jase joked about his beard length in an interview with The Blaze. Missy recalls that Jase began growing his beard, and that Mia was shocked and didn't recognize him at first!
7. "You have to suffer day 7-14, and then it's pure bliss."
More Beard Talk
Jase gave tips to an interviewer about the process of growing such a long beard. He said the second week is a bit itchy and bothersome, but then you get used to it.
8. "Nobody will try to mug you. They see someone like me and think no, it's not a good idea."
photo by heavy.com
Jase again joked about his beard. The beards of the Duck Dynasty men have become quite the trademark. Due to their use as camouflage, the men don't seem to want to give them up any time soon.