New Big Bang Theory
This week's new Big Bang Theory episode had some great highlights. There were classic one-liners, funny plot lines, and of course Raj as a mermaid unicorn dancing in the streets. Here's part two of our highlights series. Don't worry, we saved the best for last.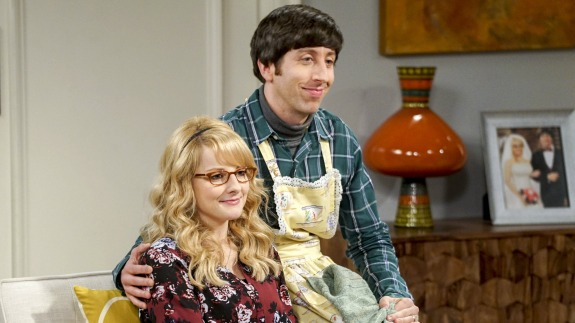 Bernadette Assumes The Worst
When Howard wanted to ask permission to go to Comic-Con, he used the flattery technique. Bernadette kind of assumes the worst, although we could see on her face she was kidding.
Howard: What you doing?
Bernadette: Making lasagna.
Howard: Oh, she's sexy, she can cook. I'm such a lucky guy. (chuckles)
Bernadette: You want something stupid, or you did something stupid?
Howard: No. I just walked in here, saw how beautiful you are and had to tell you.
Bernadette: Oh, dear God, you're cheating on me with Raj.
Leonard Tries To Persuade Penny
Leonard doesn't really want Penny to go to comic-con, so he decides to tell her all the uncomfortable things about the convention. Perhaps he went a bit too far…
Penny: Wow, that is a lot of people jammed in there.
Leonard: I know. Sometimes Howard wears a striped shirt so we can play "Where's Wolowitz?" Okay, now, Th-this is us camping out in line for the Avengers panel.
Penny: Oh, you really sleep on the sidewalk, huh?
Leonard: Yeah. It can get chilly, but Raj figured out that if you pee in a bottle and put it in your sleeping bag, it helps keep you warm.
Amy's One-Liner
This is perhaps our favorite part of the episode. Amy's one-liner about Leonard could not be more spot on.
Penny: You know, he's always making an effort to do things with me he doesn't enjoy, like going outside.
Amy: He is an indoor cat.
The Best Thing Ever
https://www.youtube.com/watch?v=Z4edY9p2SQc
The greatest highlight of the episode? It's not a quote. You have to see it to believe it.
We guess Raj really was dedicated to raising money for comic-con tickets. His outfit is absurd, and can only be explained knowing Stuart probably designed it. We're proud of you Raj.
This is adulthood.
Did you check out this week's new Big Bang Theory? What were your highlights?
Sponsored Links