The Big Bang Theory Girls
The Big Bang Theory girls are pretty tame on set. These ladies are hilarious, but not exactly sex-crazed on the show. Kaley Cuoco plays Penny, who in the beginning of the series was a little crazy. However, now she's dialed down the drinking and partying, making her just as tame as Mayim Bialik and Melissa Rauch's characters. That's why it's so cool to see them push the envelope in press work. We love to see them come out of their shell. Here are five awesome shots of TBBT ladies…and yes, we saved the best for last.
Kaley For Contents
photo by stocklandmotelblog.com
Kaley bared all in this sexy shoot for Contents Magazine in October of 2015. The young actress made a huge style choice when she cut her bombshell hair into a pixie cut. She took a risk, but fans loved it.
Melissa Rauch For Maxim
photo by pinterest.com
Melissa Rauch famously posed for Maxim in 2013. She did an S&M themed photo shoot complete with a large snake. This was quite shocking to many TBBT fans, but we have to say we love her passion.
Kaley On Maxim
photo by zhiwomei.com
Melissa isn't the only one who's gone there for Maxim. Kaley Cuoco shot this stunning cover in July 2012, before Rauch had even joined Big Bang.
Melissa In Lingerie
photo by Hawtcelebs.com
Melissa posed on the cover of FHM Magazine in December 2015. She sported some lacy lingerie and once again grabbed viewer's attention.
Mayim Bialik Is True To Herself
photo by regardmagazine.com
Mayim Bialik is known to be outspoken about her affection for modesty. The above photo was shot for Regard Magazine, and while stunning, doesn't exactly push the envelope. However, Mayim is just as daring as her costars- just in her own way.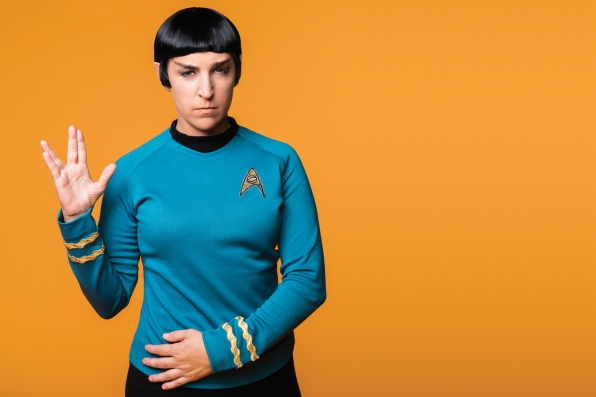 photo by cbs.com
Here Mayim dresses up Star Trek style for Watch! Magazine. Pushing the envelope doesn't always mean baring skin, and we love how Mayim is unique in her own way.
These ladies do what they want, and are each uniquely beautiful and fun.
Which of The Big Bang Theory girls is your favorite?
Sponsored Links
Sponsored Links