It's been ten years of laughs with The Big Bang Theory. That's ten seasons full of twisting plots and funny scenerios. There's been more wild occurrences than any fan could ever keep straight. Here are four wild things that happened on the first TBBT season that you totally forgot about.
photo by youtube.com You might not remember that when we first met Sheldon and Leonard they were contemplating selling their sperm at a High IQ Sperm Bank. This is how we were introduced to two of our very favorite characters, and the hilarious situation totally set the tone for the entire series. The pilot episode showed Sheldon wrestle with the morality of selling sperm he couldn't guarantee would be smart. Talk about a dilemma.
Sheldon Was Fired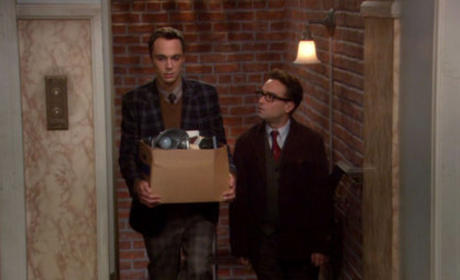 photo by tvfanatic.com
It's hard to imagine Sheldon angering anyone (We're kidding.) However, you might not remember that in Season 1, Sheldon was fired for offending his boss. In The Luminous Fish Effect Sheldon tells his new boss that he thinks he's unworthy of his position. His harsh honesty gets him a swift canning. This is also the episode where we first met Mary Cooper, played by the lovely Laurie Metcalf. Sheldon's mother has to come to town to knock some sense into him.
Leonard Bought The Time Machine From The Time Machine Movie 
photo by spotern.com
You might have forgotten that Leonard actually accidentally purchased the prop from The Time Machine. Leonard believes the prop he bid for on the internet is of miniature size, but it's actually the full fledged thing. The boys have no idea how to get it up the stairs, and this is one of the first times the broken elevator is referenced in the series.
Sheldon and Raj Created "Tressling"
photo by thebigbangtheory.wikia.com
We're willing to bet you don't remember "tressling." This was one of the guy's weird games from Season 1. Sheldon and Raj engaged in a simultaneous battle of arm wrestling and tetras in the Season 1 episode The Peanut Reaction. We can't say we've ever seen them playing this again.
Did you remember these absurd occurrences from The Big Bang Theory Season 1?